Cost-Effective Combination Leak Test and Flow Test Instrument Unveiled by InterTech Development Company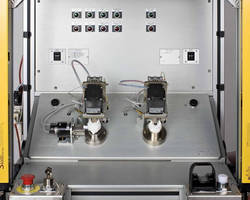 Manufacturers and machine builders seeking ways to cut testing costs can now use the InterTech M-1075 Mass Flow Leak Detector with built-in machine control functions that eliminate costly PLC controls for combination leak tests and flow test solutions.

Originally developed as a functional test solution for a high-precision medical device, this combination leak test/flow test system promises to cut costs in a wide array of testing applications used by manufacturers and machine builders worldwide.

Details of this turnkey InterTech test solution can be found at http://www.intertechdevelopment.com/solutions_detail.cgi?id_num=55.

Jacques Hoffmann, President and founder of InterTech Development Company comments, "Simply selecting the lowest cost test instrument from the shelf does not mean you are going to get the lowest cost testing solution. In this and similar applications, InterTech's Applications Lab has consistently demonstrated the ability to cut testing costs up to 25%. Customizing instrument sensors to application requirements is one of many contributors to InterTech's track record in helping global manufacturers maintain the highest quality standards while at the same time decreasing manufacturing costs."

InterTech Development Company (www.intertechdevelopment.com) is a world leader in test-centric assembly and test specializing in automated leak and functional testing with 7 patented mass flow and hydraulic technologies, as well as, helium mass spectrometry (ISO-9001-2000 International Standards for Quality Management). InterTech Development Company-engineered solutions are used by hundreds of manufacturers worldwide. InterTech Development Company's worldwide support organization maintains offices in North America, Asia, and Europe.

For more information on InterTech instruments, Applications Lab, and consulting services, please contact Gerald Sim at gsim@intertechdevelopment.com, phone: +847 679 3377, fax: +847 679 3391.

More from Sensors, Monitors & Transducers