Cosasco® M-200 Microcor Data Logger Monitors Corrosion Remotely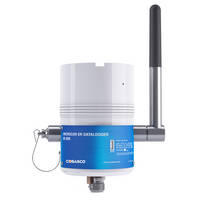 Intrinsically safe unit ideal for all process media and remote applications
Santa Fe Springs, Calif. (November 1, 2016) – The Cosasco® M-200 Bluetooth Microcor Electrical Resistance (ER) data logger provides corrosion and erosion monitoring for oil and gas, chemical, water or any other process media application where direct online operation is not possible. Built-in Bluetooth® technology wirelessly transfers stored corrosion rate data to a handheld transfer unit from up to 32 feet (10 meters) away.
Data readings from the transfer unit are easily accessed with a PC running Cosasco Data Offline corrosion management software. Users can then view graphical displays of corrosion data for immediate identification of corrosion upsets. Data from multiple probes and additional corrosion related parameters can be reviewed simultaneously.
The M-200 works with all Cosasco Microcor corrosion and erosion probes. It is intrinsically safe (IECEx/ ATEX/ CCSAUS) and certified for use in Class I, Zone 1 applications.
For more information, visit www.cosasco.com.
About Cosasco
Cosasco specializes in a complete range of corrosion monitoring and chemical injection equipment commonly used in oil and gas, petrochemical, water treatment, chemical, pulp and paper, and pharmaceutical industries. Cosasco equipment is used for a range of monitoring applications, including internal, external, atmospheric, remote and downhole corrosion; rouge and erosion. Cosasco is known globally as the OEM for the following product brands: Microcor®, Cosasco®, and Ultracorr®.
Additional Cosasco Care corrosion services include SAFR Services; Data Management & Reporting; Safety Awareness Training; Microbiological Monitoring & Data Collection; Design, Installation, & Commissioning; Technical Sales & Support; Chemical Injection & Optimization; and Corrosion & Erosion Consultancy. Cosasco is fully certified and complies with the BSI EN ISO 9001:2008 Certification.
Company Contact:
Kathleen Rosario
Cosasco, Inc.
11841 East Smith Ave.
Sante Fe Springs,
CA 90670
USA
Tel: +1 562.949.0123
Fax: +1 562.949.3065
E-mail: krosario@cosasco.com
Website: www.cosasco,.com
Press Contact:
Rob Dietrich
Halma Holdings PR Services
11500 Northlake Drive, Suite 306
Cincinnati, OH 45249
USA
Tel: +1 513.898.8007
Fax: +1 513.898.8008
E-mail: rob.dietrich@halma.com
Website: www.halmapr.com
More from Test & Measurement