Corrosion-Resistant Plug suits mobile electrical accessories.
Press Release Summary: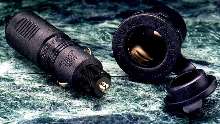 Weather-resistant, 12 V plug incorporates interconnecting design that provides locking, moisture-proof connection. Proprietary design, optimized for metal connection points, offers user-replaceable 10 A fuse, 15 A rating, and internal strain-relief and cord seal. Plastic parts are made from glass-filled nylon, while metal, current-carrying parts are nickel-plated copper alloy. Product is suitable for use in coolers/warmers, inflators/compressors, air ionizers, and auxiliary lights.
---
Original Press Release:
New Lower Cost, Corrosion-Resistant 12-Volt Plug

Exclusive Design Provides Locking, Moisture-Proof Interconnect; Ideal For New Generation Of Mobile Accessories

A new, weather-resistant 12V plug that offers superior electrical conductivity and expanded service life has just been announced by Marinco Specialty Wiring Devices.

The Marinco 12V plug has a unique interconnecting design that securely locks the plug into a Marinco receptacle for a moisture-proof connection. Its proprietary design provides for optimized metal connection points that result in minimal current loss. The 12V plug is also compatible with most standard (non-locking, non-Marinco) receptacles.

The 12V plug features a moisture-proof sealing ring, a user-replaceable 10-Amp fuse, a 15-Amp rating, as well as internal strain-relief and cord seal to extend the life of power cords. Plastic parts are made from durable, glass-filled nylon. Metal current-carrying parts are nickel-plated copper alloy for maximum corrosion protection and conductivity.

The 12V plug is a new, lower cost option from the Marinco line of DC plugs and receptacles. It has all of the features and performance of the existing 12VPG model but without the power indicator LED and stainless steel knurl nut.

The new 12V plug is ideal for the new generation of mobile electrical accessories, which include portable TVs, coolers/warmers, vacuum cleaners, inflators/compressors, air ionizers, personal audio systems, radar guns and detectors, and auxiliary lights. It can also be used in non-vehicular applications--wherever long-lasting, weather-resistant, high-conductive DC connections are needed. The 12V plug is backed by a five year warranty.

The new Marinco 12V plug is available individually-packaged for distributors (part number 20070) or in an OEM bulk pack of 50 (part number 21070). The OEM bulk pack eliminates the unpacking of individual boxes, speeding up OEM assembly and greatly reducing cardboard handling and waste.

Marinco Specialty Wiring Devices has 30 years of expertise designing and manufacturing electrical connectors, plugs, inlets, outlets, receptacles, and covers.

Contact Marinco Industrial Group, 2655 Napa Valley Corporate Drive, Napa, CA 94558, USA. Tel: 800-767-8541 or 707-226-8600. Fax: 707-226-9670. E-mail: industrialinfo@marinco.com Website: www.marinco.com
More from Agricultural & Farming Products