Cornice Moldings can be used with indirect lighting.
Press Release Summary: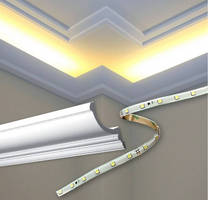 Able to accept various cove molding light fixtures without causing scalloped/uneven light dispersion and illumination, ORAC DECOR®, ORAC MYLINE®, and Designer's Edge Millwork® Cornice Moldings for Indirect Lighting can also be used as traditional cornice molding without lighting. Each high-density polyurethane molding - primed and ready for painting, glazing, or faux finishing - exhibits dimensional stability and is unaffected by moisture, insects, UV, and solvents.
---
Original Press Release:
Outwater Introduces Cornice Mouldings for Indirect Lighting
Bogota, NJ (www.outwater.com) -- Outwater has created a special series of high-density polyurethane cornice mouldings in its ORAC DECOR®, ORAC MYLINE® and Designer's Edge Millwork® Collections that have been specifically intended for use with indirect lighting. Manufactured to easily accept a variety of cove moulding light fixtures without causing scalloped or uneven light dispersion and illumination, the ORAC DECOR®, ORAC MYLINE® and Designer's Edge Millwork® Cornice Mouldings for Indirect Lighting can also be used just as readily as a traditional cornice moulding without lighting if desired. Designed to optimally encompass and utilize the natural light within your environment to produce a subtle yet truly unique shadow effect between itself and your walls, the results are uncanny! Suited for use in virtually any type of commercial and residential construction, renovation or redecoration application, the ORAC DECOR®, ORAC MYLINE® and Designer's Edge Millwork® Cornice Mouldings for Indirect Lighting are produced in exclusive molds that faithfully yield sharply defined details, perfect dimensions, and extremely consistent quality. Lightweight, strong and easy to install using traditional techniques and tools, the ORAC DECOR®, ORAC MYLINE® and Designer's Edge Millwork® Cornice Mouldings for Indirect Lighting are primed and ready for painting, glazing or faux finishing, and will endure years of repeated refinishing when necessary. In addition, unlike mouldings manufactured from other media, which are subject to numerous characteristic adversities such as rot, warping and mineral streaking, the ORAC DECOR®, ORAC MYLINE® and Designer's Edge Millwork® Cornice Mouldings for Indirect Lighting are impervious to adverse climate and weather conditions, and because of their dimensional stability, will not alter over time. Unaffected by moisture, insects, UV and most common solvents, the ORAC DECOR®, ORAC MYLINE® and Designer's Edge Millwork® Cornice Mouldings for Indirect Lighting can be used in applications that would not have been otherwise possible. Inspired by popular historical, classical and even contemporary designs, Architectural Products by Outwater offers a complete collection of cornice, panel and chair rail mouldings, ceiling medallions, domes, flexible mouldings, whole and half columns, niches, pilasters, wall light fixtures, decorations, pediments, fireplace surrounds, door and wall surrounds, pedestals and corbels. Color pictorials and ordering information are available online at www.outwater.com OUTWATER PLASTICS INDUSTRIES + ARCHITECTURAL PRODUCTS BY OUTWATER can be contacted Toll Free at 1-888-772-1400 (Catalog Requests) / 1-800-631-8375 (Sales and Product Information) / 1-201-498- 8750 (Outside of US & Canada Catalog Requests, Sales and Product Information). OUTWATER PLASTICS INDUSTRIES + ARCHITECTURAL PRODUCTS BY OUTWATER, with facilities in New Jersey and Arizona, have served their customers since 1972 as "the source" for in stock, ready-to-ship standard and innovative component products. For further information: Contact Joey Shimm (800) 631-8375 / (201) 498-8750 JoeyShimm@OutwaterPlastics.com
More from Services