Coriolis Mass Flowmeter is offered with loop powered transmitter.
Press Release Summary: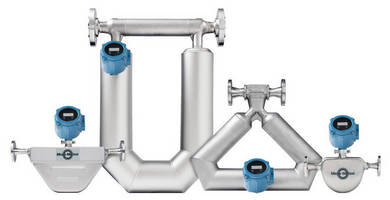 Equipped with compact and drainable Micro Motion F-Series sensors, 2-Wire Micro Motion® flowmeters can be applied to range of installations. Accommodated line sizes range from 1/10-6 in., and flow ranges vary from 0.075-20,000 lb/min. Transmitter (2200S) delivers full measurement performance, without constraints of temperature or viscosity limits. Suited for continuous process applications, it is intrinsically safe and has C1D1, ATEX, and Zone 1 hazardous area approvals.
---
Original Press Release:
Emerson Expands Application Range of Micro Motion® 2-Wire Coriolis Flowmeters
Loop-powered Model 2200S transmitter is now available with the compact, drainable F-Series Coriolis flowmeters BOULDER, COLORADO -- Emerson Process Management has expanded the range of applications for its proven 2-Wire Micro Motion® Coriolis mass flowmeters. The addition of the compact and drainable Micro Motion F-Series sensors mean 2-wire technology can be applied to an even broader range of installations. Micro Motion 2-Wire Coriolis technology has been field proven in a range of industry applications around the world. The addition of the F-Series range expands the line of Micro Motion ELITE flowmeters for 2-wire applications to line sizes from 1/10" (DN2) to 6" (DN150), with flow ranges of 0.075 lb/min (2 kg/h) to 20,000 lb/min (545,500 kg/h). The 2-Wire Micro Motion 2200S transmitter used with the Micro Motion ELITE and F-Series Coriolis sensors delivers full measurement performance, without the constraints of temperature or viscosity limits. Ideal for continuous process applications, the 2200S transmitter is suitable for integral or extended mount and ideal for long wiring runs and applications in hazardous areas. There is the option of a stainless steel housing for use in harsh environments. The Model 2200S transmitter is intrinsically safe, is suitable for a range of process conditions and has C1D1, ATEX and Zone1 hazardous area approvals. Equipped with MVD(TM) digital processing technology, the Micro Motion 2200S transmitter delivers multivariable and diagnostic information via HART® or IEC-approved WirelessHART® communications for reduced costs through improved process consistency and maximized uptime. Micro Motion Coriolis meters are part of Emerson's broad range of intelligent, digital field devices that power the PlantWeb(TM) digital plant architecture. Further cost savings, increased plant availability, and enhanced safety and environmental compliance are achieved when the meters are integrated into PlantWeb. Learn more about the Micro Motion 2-Wire Coriolis transmitter at Emerson's Online Video Center: www.emersonprocess.com/Videos/CONTENT/JohnHerczegPresention/player.html About Emerson Process Management Emerson Process Management (www.EmersonProcess.com), an Emerson business, is a leader in helping businesses automate their production, processing and distribution in the chemical, oil and gas, refining, pulp and paper, power, water and wastewater treatment, metals and mining, food and beverage, life sciences and other industries. A division of Emerson, Micro Motion, (www.EmersonProcess.com/MicroMotion) invented the first practical Coriolis flowmeter in 1977, and is consistently rated as the world's leading Coriolis flowmeter supplier, measured in both technology and customer support. Micro Motion technology and expertise plays a key role in the Emerson mission of combining superior products and technology with industry-specific engineering, consulting, project management and maintenance services. Emerson brands include PlantWeb(TM), Fisher®, Syncade(TM), Micro Motion®, Rosemount®, Daniel®, DeltaV(TM), Ovation(TM), and AMS Suite. About Emerson Emerson, based in St. Louis, Missouri, USA, is a global leader in bringing technology and engineering together to provide innovative solutions for customers in industrial, commercial, and consumer markets through its network power, process management, industrial automation, climate technologies, and appliance and tools businesses. Sales in fiscal 2009 were $20.9 billion. For more information, visit www.Emerson.com. PlantWeb, Micro Motion, ELITE and MVD are marks owned by one of the Emerson Process Management legal entities. Other marks are property of their respective owners.
Related