Coriolis Mass Flow Meter also acts as process controller.
Press Release Summary: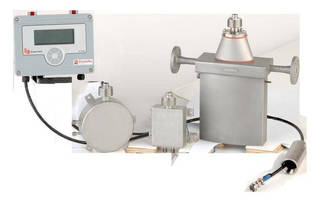 In addition to enabling simultaneous measurement of mass, volume, density, and temperature, RCT1000 is capable of controlling process flow by sending commands to such instrumentation as valves and pumps. Transmitter performs batch and PID control, and RCT Console software fosters operational flexibility and usability. Able to measures liquid or gas with respective accuracies up to ±0.1% and ±0.5% of flow rate ± zero stability, meter has unobstructed, open flow design.
---
Original Press Release:

New Coriolis Mass Flow Meter from Badger Meter



MILWAUKEE, Wis. – Badger Meter introduces RCT1000 Coriolis Mass Flow Meters, the latest addition to an extensive line of flow instrumentation products. The RCT1000 provides the ability to simultaneously measure mass, volume, density, and temperature, providing control options to synchronize precision processes.



"More than simply a flow meter, the RCT1000 Coriolis Flow System is capable of controlling process flow by sending commands to other instrumentation, such as valves and pumps," said Cheryl Ades Anspach, marketing manager at Badger Meter. She added, "The RCT1000 transmitter performs batch and PID control, which eliminates additional control equipment. This means one Coriolis flow meter interface functions as a transmitter and an economical mini-process control system, which can operate independently or be integrated into a larger system."



Complementing the robust transmitter and sensor, every RCT1000 Coriolis mass flow meter comes with the RCT Console software package. RCT Console is specifically designed to provide users maximum operational flexibility and ease-of-use. By allowing users quick access to configure measurement parameters through the RCT Console software or the LCD interface on the transmitter, the meter can be set up and measuring flow in a matter of minutes. RCT Console software offers much more than configuration features. Users are able to obtain advanced data logging and performance trend analysis, as well as system verification provided by the unique HealthTrack feature which records critical parameters and compares them to normal ranges.



The Badger Meter RCT1000 Coriolis mass flow meter identifies flow rates by directly measuring fluid mass over a wide range of fluid temperatures and viscosities with a high degree of accuracy. Furthermore, the unobstructed, open flow design and measurement technique makes the RCT1000 suitable for a variety of fluids such as vegetable oils and fats, slurries, adhesives, coatings and hardeners, and other viscous, nonconductive fluids that are difficult to measure with other technologies.



RCT1000 Advantages

• Measures either liquid or gas

• Unobstructed open flow design

• Low-maintenance operation with no free-moving parts

• Modbus RTU and Ethernet network options

• Advanced fluid diagnostic tools

• Batching and PID control



RCT1000 Specifications

• Pipe size: 1/16…3 in. (1.6…76.2 mm)

• Accuracy:

- Liquids: up to ±0.1% of flow rate ± zero stability

- Gases: up to ±0.5% of flow rate ± zero stability

- Density: up to ±0.03121 lb/ft3 (0.0005 g/cm3)

• Zero stability: up to ±0.025% of full scale

• Repeatability: up to ±0.05% of flow rate

• Process temperature range: -40…392° F (-40…200° C)

• Wetted material: 316L stainless steel



For more information about RCT1000 Coriolis mass flow meters, please visit www.badgermeter.com or call 1-877-243-1010.



About Badger Meter

Badger Meter is an innovator in flow measurement and control products, serving water utilities, municipalities, and commercial and industrial customers worldwide. The company's products measure water, oil, chemicals, and other fluids, and are known for accuracy, long-lasting durability and for providing valuable and timely measurement data. For more information, visit www.badgermeter.com.



Contact Information:

Jay Schoenwaelder

jschoenwaelder@badgermeter.com

877-243-1010





www.badgermeter.com



More from Test & Measurement