Coriolis Flowmeter directly measures viscosity.
Press Release Summary: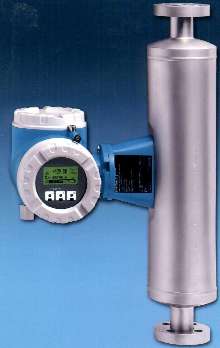 Immune to plant vibration, PROline® Promass 83 I uses torsion mode balance system for optimal balance and isolation from external influences. Accuracy of measured viscosity differs, depending on whether fluid is Newtonian or non-Newtonian. Total accuracy is ±5% of reading, ±0.5cP, and repeatability is 0.5% of reading. No brackets or supports are required for installation, and stability of zero point eliminates need to re-zero meter.
---
Original Press Release:
PROline Promass 83 I - Straight-Through Single Tube Coriolis Flowmeter Capable of Direct Viscosity Measurement
Another innovation from Endress+Hauser October 10, 2003, Greenwood, Indiana -- Coriolis flowmeters are commonly used to measure mass flow, density and temperature measurement. An additional variable, viscosity, can be an important control variable that can indicate problems in a process. Significant research has resulted in the recent introduction of direct viscosity measurement with the PROline® Promass 83 I line of Coriolis flow meters from Endress+Hauser. Coriolis flow meters measure the rotational force exerted by fluids flowing through an oscillating measurement tube. Measurement of these forces is used to calculate mass flow and density. Endress+Hauser uses the torsional movement of the single straight measuring tube to additionally measure the viscosity of the fluid. Promass 83 I Coriolis flowmeters use a patented torsion mode balance system (TMB(TM)) for optimum balance and isolation from external influences. A pendulum is attached to the middle of the oscillating measuring tube to provide a balancing force. This pendulum oscillates counter phase to the tube, thus compensating for the momentum of the measuring tube. Due to the rotational motion of the tube, the fluid is forced to a rotational motion. Depending on the fluid's viscosity, different velocity profiles v(r) of the fluid are generated. Due to the velocity gradient of the velocity profile there are shear forces in the fluid. These shear forces dampen the oscillation of the measuring tube and can be measured via the excitation current necessary to maintain tube oscillation. The excitation current can then be used to calculate the viscosity of the fluid. The accuracy of viscosity measured with this patented method differs depending on whether the fluid is Newtonian or non-Newtonian. Newtonian fluids can be measured with a high rate of repeatability and a reasonable rate of accuracy with a Promass 83 I meter. "The total accuracy equals ±5% of reading. ±0.5cP; the repeatability is 0.5% of reading," according to Thomas Nierlich, the Flow Product Manager with Endress+Hauser in Greenwood, Indiana. How do other manufacturers use a Coriolis meter to measure viscosity? A Coriolis mass flow meter is commonly used in conjunction with a differential pressure meter to accomplish this. A differential pressure meter can be installed around a Coriolis mass flow meter with taps upstream and downstream of the meter. Viscosity is measured by determining the pressure drop through the mass flow meter under flowing conditions. The viscosity of the flowing medium is directly proportional to the ratio of pressure drop (as measured through a length of piping or tubing like a Coriolis meter) and volumetric flow rate. This calculalion of viscosity is based on the Hagen-Poiseuille equation and is expressed as absolute viscosity. Viscosity measured with a Coriolis meter and a differential pressure meter has some limitations besides the obvious cost of two separate meters. The Hagen-Poiseuille equation is only valid for laminar flows with a Reynolds number below 2000, which often leads to more expensive larger size meters as the flow velocity has to be reduced. The flow profile must be uniform throughout the dp-measurement section of the process. The Hagen-Poiseuille equation is also only theoretically valid for Newtonian fluids. PROline Promass 83 I is one member of a family of Coriolis flowmeters available from Endress+Hauser. A variety of transmitters can be paired with PROline Promass sensors and mixed and matched to meet individual applications. Regardless of the sensor selected, all Promass Coriolis flow meters are different from any other Coriolis meter. The unique design makes them immune to plant vibration, with excellent stability and accuracy. No brackets or supports are required for the installation of a Promass, lowering installation costs. The stability of the zero point also sets Promass apart. There is no need to re-zero the meter, significantly reducing required maintenance time and costs. For complete details on PROline Promass visit our web site at www.us.endress.com. About Endress+Hauser Endress+Hauser offers the broadest range of measurement technologies available from any one supplier in the world. Whether for level, pressure, volume or mass flow, density, temperature, or analysis, Endress+Hauser can provide a single source for measurement solutions designed to suit our customers' application conditions. In addition, Endress+Hauser offers a complete line of process recorders, indicators, and other components. U.S. facilities are located in Greenwood, Indiana, with international headquarters in Reinach, Switzerland.
Contact This Company Download Spec Sheet
More from Test & Measurement