Cored Wire Solder is designed for use with Pb-free alloys.
Press Release Summary: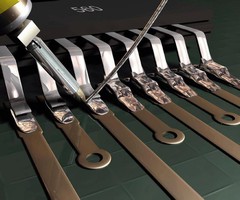 Colophony/rosin free, no-clean, cored wire solder, CW-501 comes in variety of alloys and wire diameters. Compatible with wave fluxes and Indium8.9, it provides wetting and solder spread with minimal smoking and low odor.
---
Original Press Release:

Indium Corporation Introduces First Rosin-Free, No-Clean, Cored Wire Solder



October 23, 2008

Indium Corporation has introduced CW-501, the First Colophony- (Rosin) Free, No-Clean, Cored Wire Solder for use with Pb-Free alloys.

Indium Corporation has adapted its industry-leading solder paste technology for use in a cored wire solder to develop CW-501, a product that contains no rosin, a known allergen. CW-501 comes in a variety of alloys and wire diameters. It provides excellent wetting and solder spread with minimal smoking and low odor. CW-501 solders comparably to no-clean or RMA rosin-containing cored wires, and is compatible with Indium Corporation's latest line of no-clean products, including wave fluxes and the award-winning Indium8.9.

"CW-501 solders as well as the best rosin-containing cored wire solders, while being rosin-free," said Tim Jensen, Solder Paste Product Manager. "These, as well as our halogen-free products, are growing in importance as the industry moves toward more environmentally-friendly products. We are excited to be able to offer this product to our customers."

CW-501 and all of Indium Corporation's bar, wire, and wave flux products are manufactured at its, ISO-9000 certified Chicago Manufacturing Division (CMD) facility, in Elk Grove Village, IL. Established in late 2006, the CMD facility has the latest solder manufacturing equipment and employs solder and flux manufacturing personnel with more than 150 combined years of solder making experience.

Indium Corporation is a premiere materials supplier to the global electronics assembly, semiconductor fabrication and packaging, solar photovoltaic, and thermal management markets. Founded in 1934, the company offers a broad range of products, services, and technical support focused on advanced materials science. With facilities in the PRC, Singapore, South Korea, the United Kingdom, and the USA, the company is a five-time Frost & Sullivan Award winner and registered to ISO-9001.


More from Materials