Cored Solder Wire is designed for Pb-free processes.
Press Release Summary: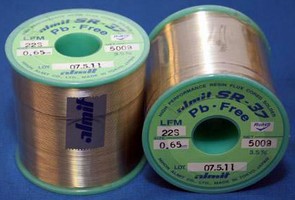 No-clean SR-37 LFM-22S cored solder wire is suited for manufacturers who do not require silver in Pb-free materials. By ensuring that, after soldering, small amount of flux remains on soldering iron tip, this solder material prevents further oxidation from taking place and allows iron to transfer heat to next joint. Result is accelerated wetting, consistent flux content, and tip-saving properties. LFM-22S alloy is based on modified tin/copper formulation.
---
Original Press Release:

Almit Launches Value-Driven Lead-Free Cored Solder Wire



Almit Technology has extended its range of leading-edge solder materials even further with the addition of the value-driven SR-37 LFM-22S lead-free cored solder wire. Developed to reduce material cost, the new formulation also enhances cost-efficiency and yield through a range of tip-saving properties.

The no-clean Almit SR-37 LFM-22S cored solder wire has been developed for manufacturers who do not require silver in lead-free materials. By removing this element from the mix, Almit has substantially reduced material cost to increase the accessibility of its solder technology. Informed at every level by Almit's renowned solder expertise, the cored solder wire also incorporates the proven SR-37 flux to deliver a further cost-efficiency for lead-free manufacture.

Almit's SR-37 flux is designed specifically for use with lead-free alloys, providing fast wetting to all materials without exception. Since the LFM-22S alloy is based on a modified tin/copper formulation, its combination with the SR-37 flux dramatically slows down erosion of soldering iron tips. By ensuring that after soldering, a small amount of flux remains on the soldering iron tip, the SR-37 LFM-22S prevents further oxidation from taking place and allows the iron to transfer heat readily to the next joint. The result is fast-wetting, consistent flux content and tip-saving properties for high yield and high value.

"The introduction of our SR-37 LFM-22S cored solder wire is great news for manufacturers looking to drive down the cost of their operations without compromising productivity," explains Almit's Chris Ward. "Engineered for lead-free environments and ideal for automatic or robotic soldering applications, the new solder wire has opened up our range to even more manufacturers than ever. Too often, there is a trade-off between cost-efficiency and performance. At Almit, we're constantly working to ensure that manufacturers never have to make this choice and the SR-37 LFM-22S is another example of this commitment. Delivering high value and high performance, I am confident that this new solder wire will be a welcome addition to our range of proven solder technologies."

Almit contact
Chris Ward
Almit Technology Ltd
Unit 7 Forest Row Business Park
Station Road
Forest Row
East Sussexv
RH18 5DW
UK
Tel: +44 (0)1342 822844
Email: chris@almit.co.uk
www.almit.com

More from Sensors, Monitors & Transducers