Cordless Tools feature 18V Li-Ion batteries.
Press Release Summary: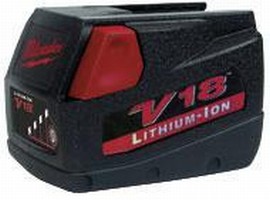 V18(TM) Series of 18 V cordless tools includes hammer-drill, driver-drill, circular saw, metal cutting circular saw, impact wrench, impact driver, Sawzall® reciprocating saw, rotary hammer, job site radio, and work light. V18 Li-ion batteries can be retrofit onto existing Milwaukee 18 V NiCd tools. Li-Ion and NiCd compatible charger is available that can charge Li-Ion batteries in 60 min and NiCd batteries in 30 min.
---
Original Press Release:

Milwaukee Offers Exclusive V (TM) Li-Ion Technology for 18 Volt Tools



MILWAUKEE - January 11, 2006 - Milwaukee Electric Tool Corporation introduces its V18(TM) system, a new line of 18 volt Li-Ion cordless tools. The new V18 battery gives tradesmen all the features and advantages of Milwaukee's exclusive Li-Ion technology with up to 40% longer runtime, allowing more work to be done per charge at 25% less battery weight when compared to an 18 volt NiCd. Additionally, V18 batteries offer the same fade-free power ensuring the last cut is as powerful as the first and an exclusive fuel gauge so users always know how much run time is left. The V18 Li-ion batteries also retrofit onto existing Milwaukee 18 volt NiCd tools allowing users to upgrade to Li-Ion power without the need to invest in new tools. This is an industry exclusive for Milwaukee as other companies have launched new 18 volt product lines where the new batteries were not compatible with existing tools.

Furthermore, Milwaukee has pioneered a Li-Ion and NiCd compatible charger that fully charges its Li-Ion batteries in 60 minutes and NiCd batteries in 30 minutes. The new charger features a high visibility 360° LED that indicates the charging status of the battery pack from across the room, rubberized feet to keep the charger in place on slick surfaces and extended sides to prevent the charger from tipping while the pack is charging.

Tools included in the new V18 Li-Ion System include: ½" Hammer-Drill, ½" Driver-Drill, 6-1/2" Circular Saw, 6-7/8" Metal Cutting Circular Saw, ½" Impact Wrench, Impact Driver, Sawzall® Reciprocating Saw, Rotary Hammer, Job Site Radio and Work Light. The V18 Li-Ion tools will be available mid-summer 2006

V(TM) technology represents the superior Li-Ion solution for power tools. Not all Li-Ion batteries are created equal and Milwaukee is the only company to feature lithium manganese chemistry, which has been field proven to be the most powerful and practical for professional power tool applications on the market today. Milwaukee's exclusive integration of chemistry, cell design, battery pack, electronics, charging system and tool design have all been optimized in a system to make V(TM) technology the superior Li-Ion battery technology in the industry. This technology was developed by Milwaukee in
partnership with a leading global battery company from the ground up, to produce the first heavy duty, Li-Ion battery for use in high amp draw applications.

The result is a superior Li-Ion battery technology available in an expanding range of voltages and products to fit the needs of nearly any professional tradesperson with fade-free power, longer runtimes and a lower battery weight than any battery technology achieved before when compared to similar NiCd battery packs.

There are numerous patents pending on the V(TM) Li-Ion technology, with Milwaukee being the first with published patent applications on its Li-Ion technology for power tools. To ensure its Li-Ion battery offers its professional users unparalleled performance, Milwaukee engineered a patent-pending Performance Optimization Circuit into all of its Li-Ion battery packs. This technology allows V(TM) products to operate at peak performance under extreme conditions, such as hot or cold temperatures or battery heating due to overuse. Most competitive Li-Ion batteries run hotter, feel hotter, and need to cool down before charging can be initiated adding substantially to their charging time. They may need a cooling fan in the charger to prevent potential damage and reduce charging heat. Milwaukee's Li-Ion batteries may get only slightly warmer during extreme applications. Also, they perform better in extreme cold environments, down to -4°F, not experiencing the tremendous loss of power as NiCd or Ni-MH batteries do with temperatures dropping below 32°F.

Milwaukee's Li-Ion tools and batteries were built specifically for rugged jobsite use and can withstand a 10' drop. With its larger cells Milwaukee's batteries have been designed and constructed for the toughest jobsite environment, unlike competitive products that have many, smaller cells strapped together that were originally developed for consumer electronics. In addition, Milwaukee's Li-Ion batteries feature an exclusive built-in fuel gauge so users always know how much run time is available, invaluable before you go up on a roof or in a crawl space where you don't want to run
out of power.

The new universal battery charger is Li-Ion and NiCd-compatible and will completely charge a Li-Ion battery in 60 minutes (75% in 30 min.) and an 18-volt NiCd battery in 30 minutes. The smart-charging technology communicates with the battery throughout the charging cycle to optimize battery life.

The V18 Li-Ion tools are backed by Milwaukee's 5 Year Warranty and Service Plus Program, providing one year of free maintenance when shipped to a Milwaukee Branch Office/Service Center. Milwaukee's Li-Ion batteries are covered by a 2 Year Warranty. For more information on Milwaukee new V18 tools, visit www.milwaukeetool.com or call 1-800-SAWDUST (729-3878).

Visit the Milwaukee website at:
http://milwaukeetool.com/us/en/site.nsf/frmIndex?ReadForm