Cordless Tool handles cutting, sawing, and sanding tasks.
Press Release Summary: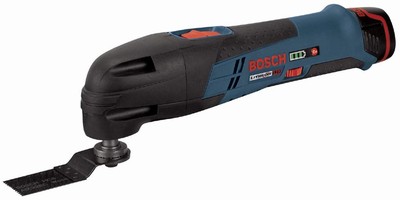 Powered via 12 V Max Litheon(TM) battery system, PS50 Multi-X(TM) uses modular accessories to achieve multifunctional operation with tool change times down to 60 sec. Included adaptor enables use of Dremel, Fein, or Proxxon accessories. Weighing 2.2 lb, multi-purpose oscillating tool features 240° adjustable tool holder; variable speed dial (5,000-20,000 rpm); and ergonomically designed chassis that has soft grip surface with 6.88 in. circumference for optimal maneuverability.
---
Original Press Release:

Bosch Multi-X(TM) Tackles Dozens of Cutting, Grinding and Sanding Tasks in Convenient Cordless Package



Ultra-compact cordless tool perfect for general contractors, remodelers, woodworkers and more!

Mount Prospect, Ill., September 10, 2008 - Bosch Power Tools and Accessories this week unveiled its eagerly anticipated PS50 Multi-X(TM). By combining the ultra-compact power of its acclaimed 12V Max Litheon(TM) battery system with the versatility to handle numerous cutting, sawing and sanding tasks, Bosch's new oscillating multi-tool is poised to become a must-have addition to pro tool belts nationwide.

The tool, built around Bosch's ultra-compact lithium-ion battery platform, has been the target of widespread end-user and media speculation since product development began. And the advance buzz was understandable. What if Bosch's new tool could take the place of several other tools for common precision sanding and cutting applications, and do it without a cord and without breaking the bank? In the coming months, users of all types will learn that this is exactly what Bosch's PS50 Multi-X delivers.

"Even before we unveiled the first PS20 Pocket Driver two years ago, we started thinking about additional ways to utilize the 12V Max Litheon platform to make pro users' jobs easier," says Edwin Bender, Bosch's group product manager for Cordless Power Tools. "A tool like the Multi-X made the short list early, because it's capable of doing so many things for so many different types of users and because it's a perfect match for this battery system."

Bosch's PS50 Multi-X is the industry's lightest (2.2 lbs) and most ergonomic (6.88" grip circumference) multi-purpose oscillating tool, even with a battery on board. The PS50 is also the fastest such tool, in both cutting and sanding applications. And when it comes to versatility, the PS50 simply can't be matched. The tool can be adapted for any number of precision cutting, sawing and sanding tasks simply by adjusting operating speed and swapping out accessories.

A 240-degree adjustable tool holder and variable speed dial (5,000-20,000 RPM) multiply the jobsite possibilities, as does the tool's compatibility with many competitor accessories. Using the adaptor provided, Bosch's PS50 Multi-X can easily be used with accessories from Dremel, Fein or Proxxon. Changing from one accessory tool to the next is a simple process and, in most cases, can be accomplished in as little as 60 seconds. That means maximum productivity in multiple applications.

The compact ergonomically designed chassis maximizes maneuverability, line-of-sight and comfort. A soft grip surface, extending from the tool's nose back to its handle, further enhances control and maneuverability in almost any situation.

As with Bosch's previous ultra-compact tools, users can count on quick 30-minute charge times and unparalleled battery life from the proven 12V Max Litheon battery platform. Bosch's 12V Max Litheon batteries are compatible with all other Bosch Ultra-Compact tools (PS10, PS20, PS30, PS40 and FL11).

Bosch is also launching a variety of high-quality accessories, such as blades for plunge cutting in wood or metal, wheels for flush cuts or grout removal and pads for sanding or polishing applications. The accessories feature innovations such as laser etched markings that do not wear off in use.

Just a few of the jobs that can be accomplished with a single tool using these accessories include:

Cutting
o Sawing flush with surface (e.g. cut off door frames near floor)
o Fine detail sawing (e.g. cut-outs in parquet)
o Cut-off of small non-ferrous profiles (e.g. aluminum strip)
o Plunge cuts in solid wood (e.g. installing ventilation ducts)
o Flush cutting of wood materials (e.g. cut-off overlapping tenon)
o Trimming PVC tubing
o Slot cutting in porous concrete
o Plunge cuts in drywall for switches and sockets
o Cut-outs in furniture for sockets or wiring
o Cutting non-ferrous metal pieces (e.g. flush cutting copper tubes)
o Filigree adjustments in wood (e.g. cut-outs for strike plates)
o Cutting of soft tiles

Scraping and Grinding
o Glue removal after carpet removal
o Window frame paint removal
o Caulk removal
o Removal or leveling of tile mortar
o Grout removal
o Wood rasping (e.g. forming or removal of edges)

Sanding
o Removing paint from wood
o Sanding of filigree and wood detail (e.g. window or door frames)
o Finish removal from metal or putty planning
o Corner sanding
o Stone sanding or polishing
o Fine wood sanding for finish preparation

The PS50 Multi-X will be available in October as part of two kits.
PS50-2A Multi-X Cutting Kit o Hard Case
o 2 Litheon 12V Max Batteries
o 30-Minute Charger
o 1 Accessory Adapter
o 1 Sanding Plate
o 1 Sanding Paper Pad
o 1-5/8" x 1-1/2" Plunge Cut Blade
PS50-2B Multi-X Carpenter Kit o Hard Case
o 2 Litheon 12V Max Batteries
o 30-Minute Charger
o 1 Accessory Adapter
o 1 Sanding Plate
o 1 Sanding Paper Pad
o 1-5/8" x 1-1/2" Plunge Cut Blade
o 3/8" x 1-1/4" Plunge Cut Blades (3)
o 3-1/2" x 7/8" BIM Segment Blade

The PS50 Multi-X is covered by Bosch's standard cordless power tool warranty and is eligible to be registered in the Bosch ProVantage Protection Plan. It will be available through authorized Bosch distributors nationwide this fall. To find out more, users may visit www.boschtools.com or call 877-BOSCH-99.

About Bosch Power Tools and Accessories:
Bosch Power Tools and Accessories is one of the divisions within the $1 billion, 4,000 employee strong Robert Bosch Tool Corporation, which is the North American branch of the largest power tool and accessory manufacturer in the world, Robert Bosch GmbH. Bosch provides a complete line of corded and cordless power tools and accessories engineered to survive any jobsite and allow professionals to take control of their work. For more information, call toll free 877-BOSCH-99 (877-267-2499) or visit www.boschtools.com.

About Bosch Group:
The Bosch Group is a leading global supplier of technology and services. In the areas of automotive and industrial technology, consumer goods, and building technology, some 271,000 associates generated sales of 46.3 billion euros (over $63 billion) in fiscal 2007. The Bosch Group comprises Robert Bosch GmbH and its more than 300 subsidiaries and regional companies in roughly 50 countries. This worldwide development, manufacturing, and sales network is the foundation for further growth. Each year, Bosch spends more than 3 billion euros for research and development, and applies for over 3,000 patents worldwide. The company was set up in Stuttgart in 1886 by Robert Bosch (1861-1942) as "Workshop for Precision Mechanics and Electrical Engineering."

In North America, the Bosch Group manufactures and markets automotive original equipment and aftermarket products, industrial automation and mobile products, power tools and accessories, security technology, thermo-technology, packaging equipment and household appliances. Bosch employs approximately 25,000 associates in more than 70 locations throughout the U.S., Canada and Mexico, with reported sales of $9.5 billion in fiscal 2007. For more information on the company, visit www.boschusa.com.