Cordless Scanner interacts with host computer up to 100 ft.
Press Release Summary: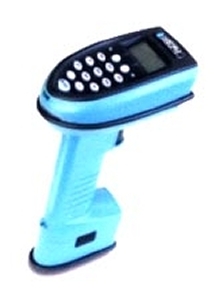 IMAGETEAM(R) 3875 hand held interactive cordless bar code scanner features backlit graphics display and alphanumeric keypad. It can send, receive and display real-time messages from host and accept keypad input. IT3875 reads standard linear bar codes plus PDF417 on shipping labels, RSS codes on shelf labels, and MicroPDF417 on electronic products. Scanner includes dual LED indicators for pronounced feedback that is viewable from many angles.
---
Original Press Release:
HHP Introduces Interactive Cordless Scanner

Skaneateles Falls, NY October 3, 2001: HHP formally Hand Held Products, a Welch Allyn affiliate, is pleased to announce the IMAGETEAM(R) (IT) 3875 Hand Held Interactive Cordless Bar Code Scanner featuring a backlit graphics display and an alphanumeric keypad. The IT3875 is a welcomed addition to HHP's popular
IT3800 product line. Linear imaging technology evolved from steady advances in illumination and digital imaging, and has become synonymous with laser-like reading distances, exceptional durability, high speed and the best overall value in scanning. HHPs' IT3875 gives the operator the freedom of wireless interaction with a host computer up to 100 feet (30 m) away. It can send, receive, and display real-time messages from the host, and can accept keypad input as if the operator was within an arm's length of the computer. The spread spectrum radio ensures reliable communication, complete mobility, and the elimination of any safety hazard involving cable interference.

This aggressive cordless bar code scanner is capable of reading symbologies that serve today's business needs: all the standard linear bar codes plus PDF417 on shipping labels, RSS codes on shelf labels, and MicroPDF417 on consumer electronic products. No other cordless scanner in the industry offers such broad
support. High-speed scanning and a fast radio data rate result in higher productivity. The T3875 is built to endure harsh work environments and is backed by a three-year warranty.

Configuring for a specific application couldn't be easier with the IT3875. Out of the box it displays a history of scanned messages and allows the operator to make keypad entries. With just a few key presses, it can be configured for a typical inventory application, whereby the user is prompted to scan a part number and key in a quantity. The backlit display has been designed for maximum readability, with recognizable graphic icons and three sizes of text. The keypad offers superior response and a familiar telephone layout for numbers. According
to Rob Hussey, Product Marketing Manager, "the IT3875 features dual LED indicators for bright, pronounced feedback that is viewable from many angles." "Designed for tough industrial use where shipping and receiving of materials requires the freedom to move around, the IT3875 Interactive Cordless Scanner
addresses the needs of many applications," states Rob Hussey, "Also, this scanner is ideal for manufacturing applications, such as work-in-process where safety may be an issue." Other applications include inventory management,
shipping and receiving, picking and putaway, point-of-sale, and interfacing to RF LAN based terminals mounted on forklift trucks.
HHP offers the industry's most complete and affordable line of image-based data collection identification devices for field service, retail-POS, logistics, distribution, and manufacturing to the global market.
More from Electronic Components & Devices