Cordless Rotary Hammer Drill also has chiseling function.
Press Release Summary: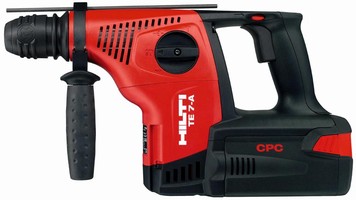 Manufactured with ergonomic design, TE 7-A is designed for drilling in concrete and masonry as well as light chiseling. Product has 5/16 to ¾ in. dia optimum drilling range and supports use of optional TE DRS-M Dust Removal System. Tool utilizes 36 V lithium-ion batteries, which can charge up to 50% capacity in 18 min or 100% in 36 min.
---
Original Press Release:

Unbelievable Power and Versatility--New Hilti TE 7-A Cordless Rotary Hammer Drill



TULSA, Okla. - February 28, 2007 - With the strongest battery hammer in its class and a professional chiseling function, the Hilti TE 7-A Cordless Rotary Hammer Drill provides the versatility and performance of a corded tool with a lightweight, ergonomic design for ultimate user comfort. Ideal for intense drilling in concrete and masonry or light chiseling, the TE 7-A is equipped with 36-volt lithium-ion batteries backed by Hilti Cordless Power Care (CPC) and the optional TE DRS-M Dust Removal System for virtually dust-free drilling.

The TE 7-A offers a 5/16- to 3/4-inch diameter optimum drilling range, ideal for drilling anchor holes and through-holes in concrete and masonry. Light and compact, the TE 7-A offers low vibration and is easy to handle, so tools stay in the hands of the user longer to help increase productivity to positively impact your bottom line.

A must for renovation and repair applications, the TE DRS-M accessory can be used with the TE 7-A for virtually dust-free drilling. Compatible with several Hilti tools, the TE DRS-M keeps dust inside the filter and away from the user.

Equipped with lithium-ion battery technology and Hilti CPC, the TE 7-A provides full battery power from the first to the last hole. Additionally, it can charge up to 50 percent capacity in only 18 minutes, or 100 percent in 36 minutes, to allow more time on the jobsite without the worry of recharging.

Rather than a single monitor for the entire battery pack, Hilti has built electronics into each cell to ensure optimum operation and life. Because the cells have less internal resistance, they generate less heat and have more current, which results in a longer life and greater performance. Each battery comes equipped with a LED State of Charge indicator so you always know how much power is left. Even when not in use, the lithium-ion batteries will maintain a high state of charge for up to six months, so the tool is always ready-to-go without waiting for a battery to charge.

An industry first, Hilti CPC batteries and chargers can be activated under the Hilti Theft Protection System to help reduce insurance and replacement costs and to keep the tools in the operators' hands. The TE 7-A and CPC batteries are also covered with Hilti Lifetime Service, so they will be serviced quickly and reliably, if needed, with no additional cost for two years. During the lifetime repair cost limit, which begins after the two-year no cost period, the tool will have a maximum repair cost of no greater than 30 percent of the list price of a new tool. Once the tool is repaired, it receives an additional six months of no cost service. The lifetime manufacturer's warranty covers the tool against manufacturer defects for the life of the tool.*

For more information on the Hilti TE 7-A or other Hilti rotary hammer drills, please contact Hilti Customer Service. From the U.S., call Hilti, Inc., at 1-800-879-8000 or visit us.hilti.com; from Canada, call Hilti (Canada) Corporation at 1-800-363-4458 or visit www.ca.hilti.com.

*Some limitations apply. Contact Hilti for details.

About Hilti, Inc.
Hilti is a world-leading manufacturer and supplier of quality, innovative and specialized tools and fastening systems for the professional user. With more than 800 highly trained Hilti account managers and engineers throughout North America and an additional 1,300 Hilti employees nationwide, Hilti expertise covers the areas of powder actuated fastening, drilling and demolition, diamond coring and cutting, measuring, firestopping, screw fastening, adhesive and mechanical anchoring, and strut and hanger systems.

Contact: Carla Biggs (918) 252-6265
carla.biggs@hilti.com

Renee Robinson (816) 460-3027
rrobinson@nicholsonkovac.com

More from Material Processing