Cordless Pumps offer single- or double-acting valves.
Press Release Summary: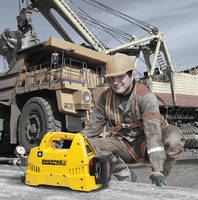 Combining power of electric-powered pump with portability of hand pump, XC-Series is suited for remote locations or hard-to-access areas. Hydraulic pumps feature unique bladder reservoir that eliminates venting, prevents contamination, and provides leak-free operation in any position. Units are also equipped with electric motor powered by 28 V Lithium-Ion battery. Creating up to 10,000 psi of pressure, XC-Series includes overload protection circuitry and trigger lock-off mechanism.
---
Original Press Release:

Enerpac Cordless Hydraulic Pumps Now Available with Single- or Double-Acting Valves



XC-Series Cordless Pump



Menomonee Falls, WI—Enerpac's industry-recognized XC-Series cordless pumps are now available in both single-acting and double-acting valve configurations. Offering the power of an electric powered pump with the convenient portability of a hand pump, XC-Series cordless pumps provide a cost-effective solution for remote locations or hard-to-access areas. This combination of features also makes the XC-Series one of the safest, most ergonomic hydraulic pumps for everyday use.



Featuring a lightweight design with integrated handle and carrying strap, XC-Series cordless pumps can be easily transported from job to job. The pump features a unique bladder reservoir that eliminates venting, prevents contamination and provides leak-free operation in any position. XC-Series pumps are also equipped with an efficient electric motor powered by an industrial grade 28-volt, Lithium-Ion battery, delivering exceptional speed and run time.



"With the addition of the double-acting valve option, customers can operate Enerpac's broad array of single and double-acting tools with the XC-Series pump," said Charlie Kopplin, Global Product Manager, Enerpac. "With reliable, powerful performance, the XC-Series is an ideal pump solution for remote outdoor locations without access to power and indoors where trip hazards, ergonomics or size is a concern."



Enerpac XC-Series cordless pumps will actuate a hydraulic tool as fast as a basic electric powered pump and creates up to 10,000 psi of pressure. This means that XC-Series cordless pumps are up to five times faster than manual hydraulic pumps and up to two times faster than popular pneumatic powered pumps.



Designed to provide optimal safety to operators, the XC-Series offers several safety features, including zero trip hazards through cordless design, overload protection circuitry from excessive amp draw or temperatures and a trigger lock-off mechanism to protect against unintended operation during transport.



XC-Series Gen II cordless pumps are ideal for a wide range of industries such as mining, construction, industrial and power generation, solving diverse and demanding applications, including:



Lifting rail cars and rail alignment

Mobilizing heavy equipment

Gear pulling

Servicing machinery

Nut splitting and cutting



For more information on the XC-Series Gen II cordless pumps visit: enerpac.com.



About Enerpac

Enerpac is an international market leader in high-pressure hydraulics, with 28 offices in 22 different countries and over 1,000 employees. Enerpac produces thousands of high-pressure hydraulic products that are distributed worldwide. Enerpac focuses on the design of products, from the smallest cylinder to complete computer-operated lifting & positioning systems, which increase productivity and make work safer and easier to perform.



About Actuant

Enerpac is wholly owned by Actuant Corporation, a diversified industrial company serving customers from operations in more than 30 countries and is headquartered in Menomonee Falls, Wisconsin. Actuant trades on the NYSE under the symbol ATU. For further information on Actuant and its businesses, visit the Company's website at www.actuant.com.



Inquiries:

Europe, Middle East, Africa, India: Maarten Franken, Global Marketing Communications Leader maarten.franken@enerpac.com  Phone 31 318 53 5911  

North and South America: Roberta Moring, Marketing Communications Leader - Americas roberta.moring@enerpac.com  Phone 262-293-1655



Related