Cordless Phone System works in rugged environments.
Press Release Summary: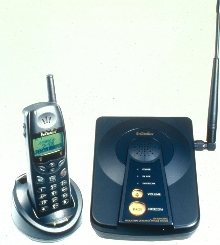 SN-920 Ultra system has maximum range of up to 12 floors or 250,000 sq ft, making it suitable for use in warehouses, large stores or manufacturing plants. It has rubberized carrying case and metal housing to withstand rugged environments, and is available with optional rubberized case with swivel belt clip. Built-in, full duplex, 2-way radio allows telephone-type handset-to-handset communication without interfering with telephone functions.
---
Original Press Release:
A Cordless Phone System for Rugged Environments
Costa Mesa, CA - 25 February 2002 - The award-winning EnGenius Industrial Cordless(TM) line of longest range cordless phones and two-way radio systems, announces the SN-920 Ultra system and new rubberized rugged carrying case providing for long-range industrial hardiness in rugged environments. Designed for the specialized environments of manufacturing plants where workers are often away from their desks, out on loading docks or away from a traditional telephone, it offers a maximum range of up to 12 floors or 250,000 square feet. The SN-920 Ultra provides uninterrupted, clear communication and a full-duplex two-way radio which allows natural talking and listening at the same time without the added expense of cellular. It can also improve customer service as incoming calls from customers no longer have to be forwarded to voicemail when the office staff is in the plant or away from their traditional telephone. The EnGenius Industrial Cordless SN-920 Ultra transmits more power than any other 900 MHz or 2.4 GHz cordless phone with 9x the power of typical 900 MHz phonies and 4x the power of typical 2.4 GHz phones, giving it the longest range available on the market today. Made with an industrial-strength metal housing to withstand rugged environments, the EnGenius handset is now available with an optional rubberized case with swivel belt clip for even greater handset protection. Independent laboratory tests show that the SN-920 Ultra's signal can penetrate up to 12 floors in a multi-floor building, school, or hotel-an enormous range compared to the 2- to 3-floor 2.4 GHz phone ranges. The SN-920 Ultra's signal also can reach across 250,000 square feet in a warehouse, large retail store or manufacturing plant and up to 3,000 acres outdoors on farms or ranches. The unique external antenna can provide even greater coverage indoors mounted upside down on the ceiling of a large warehouse or outdoors mounted on a roof to improve line-of-sight. "The biggest complaint of cordless phone users in business environments is range-losing the signal or developing static during an important call. That's just not acceptable in business, and so most businesses have avoided cordless phones altogether. With the Industrial Cordless system, employees can communicate confidentially while roaming throughout these massive areas where no cordless phone has ever been able to go before. Plus, they can communicate with co-workers over the system's two-way radio without having to go through the base unit and tie up a phone line," noted EnGenius marketing manager Doug Hayter. The Industrial Cordless SN-920 Ultra's built-in, full duplex, two-way radio allows telephone-type handset-to-handset communication without having to push to talk. And because the two-way radio communication is independent of the base, it won't tie up phone lines and can be used in remote locations away from the base. During a telephone call, a caller can be placed on hold while the user communicates with a co-worker via the two-way radio before returning to the call or transferring it. A Consumer Electronics Show (CES) Workstyle Award recipient, the EnGenius Industrial Cordless system can expand to a maximum of four telephone lines and 36 handsets in workgroup configuration where everyone can access all lines and all handsets via two-way radio. The system is further expandable and configurable off any business phone system's analog line or port, making it easy to suit a variety of business needs. To provide the most complete privacy available today, the Industrial Cordless system utilizes Digital Spread Spectrum (DSS) technology and military-type frequency hopping at 200 times per second to keep every call secure and clear. The EnGenius SN-920 Ultra's smart auto power management feature allows users to get up to three hours of talk time and 30 hours of stand-by time on a single charge of its Nickel Metal Hydride (NiMH) battery pack. While typical cordless phone batteries may require 5 to 8 hours to charge, the SN-920 Ultra's rapid charger fully charges the system's batteries in only 80 minutes. If a battery runs low during a call, the hot-swap feature allows the user to place the caller on hold and change to a charged battery from the rapid charger's spare battery charging slot. And so the caller doesn't hear dead air while on hold, the Industrial Cordless system's base unit has a built-in music on hold port. In addition to being the most powerful, longest range cordless phone system available, the Industrial Cordless SN-920 Ultra provides these features: * A flexible call manager that the user can program to receive all calls or just transferred calls by handset and by line * An audio jack to allow for music or sales messages on hold * Optional 2.5 mm headset adapter for use with most standard headsets * Compatibility with most business phone systems using an analog port or line * Two-year limited warranty * Vibration mode * 4-line illuminated LCD * Caller ID with call waiting (can store 30 calls) * 3 hours of talk time with 30 hours of standby time * Call transfer (announced or unannounced) * Smart auto-power management so the phone only uses the power it needs to provide a good signal * Keyguard to prevent accidental dialing * Call timer * 30 preset number speed dialing * Selectable voice and ringer volume with selectable ringer sound * Low battery alarm and display * Illuminated keypad * Receive signal strength indicator * 4 selectable key sounds The model SN-920 Ultra's handset is also hearing-aid compatible and comes standard with two antennas-one low profile and retractable for convenience and a longer one for maximum range. About EnGenius Technologies, Inc. - EnGenius Technologies, the wireless solution provider and industry leader in distance performance for cordless telephone systems, developed and markets the award-winning Industrial Cordless(TM) system for wireless users in rugged business environments. In 2002, EnGenius announced the Commercial Cordless(TM) designation, a new industry standard for classifying cordless telephones best suited to Small and Medium Enterprises (SME) where distance performance, maintaining a strong signal, and keeping conversations secure are critical issues. Winner of numerous awards, including the 2000 Consumer Electronics Show (CES) Workstyle Award and several CES Innovations Awards, the EnGenius Industrial Cordless(TM) systems are available through resellers, distributors, major catalog houses, and electronic specialty and superstores. The EnGenius SN-920 Ultra model is the product-of-choice for distance performance by reviewers of the New York Times and the Wall Street Journal and the favorite of many technology cyber journalists. For more information visit the EnGenius Technologies website at www.engeniustech.com or call 888-735-7888.
More from Fasteners & Hardware