Cordless Heat Tool Kit offers 4-in-1 functionality.
Press Release Summary: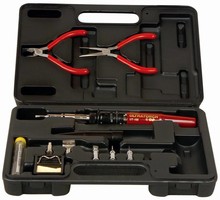 Supplied in storage/carrying case, UT-100-TC Ultratorch® Professional Heat Tool Kit comes with everything needed to pinpoint heat, solder/desolder, remove SMT components, heat shrink, repair vinyl, spot dry, cut, or torch materials. It is based on portable, butane-powered UT-100 Ultratorch, which functions as soldering iron, flameless heat tool, hot knife, and brazing torch. Kit also contains soldering, hot knife, torch, and hot air tips; wire cutter; and needle nose pliers.
---
Original Press Release:

New 4-In-1 Cordless Heat Tool Kit Offers Versatility as a Portable Soldering Iron, Heat Gun, Hot Knife and Brazing Torch



Racine, WI, USA...Master Appliance Corp., the leading North American manufacturer of heat tools for industry, introduces its new UT-100-TC Ultratorch® Professional Heat Tool Kit, featuring their popular butane-powered UT-100 Ultratorch, a portable, multi-functional tool for use as a soldering iron, flameless heat tool, hot knife and brazing torch, with competitive advantages in tip quality, work efficiency, safety and running cost.

The Master UT-100-TC kit also contains three Ultratip® soldering tips (including a high-powered chisel tip for use with thicker gauge wires), a hot knife tip, torch tip, hot air tip, heat shrink reflector, wire cutter, needle nose pliers, roll of 60/40 solder, sponge, cap and stand all packed in a sturdy, compact plastic storage/carrying case - everything needed to pinpoint heat, solder and desolder, remove surface mount components, heat shrink tubing and specialty connectors, repair vinyl, spot dry, cut or torch materials and more! It's the perfect kit for field service technicians, automotive mechanics, audio and security system installers, and other professionals working with electrical/electronic connections, wiring harnesses and heat shrink tubing.

Master's UT-100 Ultratorch features adjustable temperature control for torch temperatures up to 2372°F (1260°C) and soldering temperatures up to 932°F (500°C). Hot air temperatures up to 1202°F (650°C) are perfect for environmental "heat and seal" connectors. Ultratorch soldering tips feature Ultratip® Technology, with an oxygen-free copper base, a ceramic catalyst and extra thick iron and chrome plating for longer tip life and superior thermal conductivity, perfect for use with today's lead-free solder. The UT-100 is lightweight at just 3.7 ounces (90 grams), making it easier to hold and use over extended periods of time. A metal fuel tank provides capacity for up to two hours of use on a full charge. The durable UT-100 has also earned UL and GS/TUV listings for safety. The kit's storage case includes an open slot for a small can of Master's Ultratane® Butane fuel and an additional soldering tip. There are 15 optional soldering tips, hot air tips and shrink attachments available.

The new UT-100-TC Ultratorch Professional Heat Tool Kit is available only from your Authorized Master Appliance Heat Tool Distributor. For more information or the name of your local distributor, contact Master at (800) 558-9413, fax: (262) 633-9745, e-mail: sales@masterappliance.com, or visit Master online at www.masterappliance.com.

More from Packaging Products & Equipment