Cordless Flashlight features tri-LED design.
Press Release Summary: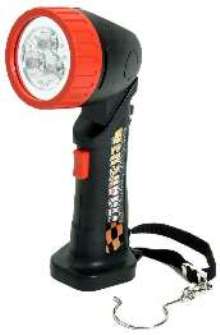 Versa Volt CTLED918 groups 3 LEDs together, multiplying light output. Interchangeable base can be removed and recharged when batteries are low, and with spare battery base, user will always have fully charged battery. Flashlight head swivels 120° to expand number of directional angles possible. Partially pulling 2-position trigger activates unit for short bursts of light, while fully depressing trigger puts light into full-time ON position.
---
Original Press Release:
New Snap-On® Cordless LED Flashlight Provides Bright Light Anywhere It's Needed
Unique Focused Tri-LED (Light Emitting Diode) Design Intensifies Light Output KENOSHA, Wis., Dec. 8, 2004 - A properly lit workspace is vital to the success of any job in the garage, shop or on the road. But, it's sometimes inconvenient to string corded lights across running motors, in hard-to-reach areas or away from electrical outlets. The Versa Volt Cordless LED Flashlight (CTLED918) is the latest cordless solution from Snap-on Tools Company that features a brilliant and lasting LED (Light Emitting Diode) light source to illuminate nearly any working environment. Similar to a lighthouse beacon, the new flashlight features an innovative design that groups three LEDs together and multiplies light output for maximum illumination. The LED bulbs last up to 10,000 working hours and extend battery life by drawing minimal current. An optional 18-volt battery (CTB3185) provides enough power for the flashlight to operate for more than eight hours. Unlike other LED lights with fixed battery bases, the Snap-on Versa Volt Cordless LED Flashlight features an interchangeable base that can be quickly removed and recharged when batteries are low. A spare battery base allows users to always have a fully charged battery on-hand for uninterrupted use. The flashlight is also compatible with a variety of other Snap-on CTB-style batteries, including 14.4-volt (CTB314), 12-volt (CTB312 and CTB3124) and 9.6-volt (CTB3092) models. Versa Volt battery chargers (CTC318) are available separately from Snap-on Tools for a simple and efficient recharging process. With a hanging strap and hook on the back of the unit, the flashlight can be hung and placed in a number of different positions, freeing up users hands. While on a flat surface, the flashlight rests securely on its back or stands upright on its base. The flashlight head swivels 120 degrees and expands the number of directional angles possible. Detents every 10 degrees lock the head into position and help prevent slipping during movement. Partially pulling the unit's two-position trigger activates the unit for short bursts of light while fully depressing the trigger puts the light into the full-time "on" position for constant illumination. The flashlight is constructed with a high-impact plastic housing capable of enduring repeated and frequent use. Customers and technicians can find out more about the Snap-on® Versa Volt Cordless LED Flashlight (CTLED918) by contacting their local Snap-on representative, visiting www.snapon.com or calling toll free 877-SNAPON-2 (877-762-7662). Snap-on Tools Company, LLC is a subsidiary of Snap-on Incorporated, a leading global developer, manufacturer and marketer of tool and equipment solutions for professional tool users. Product lines include hand and power tools, diagnostics and shop equipment, tool storage products, diagnostics software and other solutions for the transportation service, industrial, government, education, agricultural, and other commercial applications, including construction and electrical. Products are sold through its franchisee dealer van, distributor channels and company direct sales, including snapon.com. Founded in 1920, Snap-on Tools is a $2+ billion, S&P 500 company headquartered in Kenosha, Wis., and employs approximately 12,000 worldwide.
More from Communication Systems & Equipment