Cordless Bonding System applies hot melt adhesive.
Press Release Summary: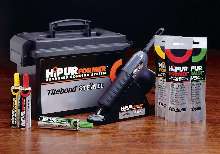 HiPURformer(TM) Advanced Bonding System enables maintenance personnel to permanently affix and/or repair materials on interior, exterior and grounds of facility. It includes applicator tool and 3 types of Titebond® waterproof polyurethane hot melt adhesives packaged in no-drip metal cartridges. Each cartridge provides approximately 71 linear ft of adhesive at 1/16 in. bead. Electric 120 V base station heats adhesive for 10 min. Tool operates up to 20 min before requiring reheating.
---
Original Press Release:

Franklin International's Versatile New HiPURformer(TM) Advanced Bonding System Improves Repair Work, Fix-Ups in Building Maintenance


Handy, cordless tool enables easy application of polyurethane hot melt adhesive to quickly, permanently bond most materials inside - and outside - the facility.

Franklin International, renowned for its Titebond® brand of glues and adhesives for the construction industry, has introduced an innovative bonding system that provides a new approach to repair and construction projects in facility maintenance. Franklin's HiPURformer(TM) Advanced Bonding System enables maintenance personnel to easily, quickly and permanently affix and/or repair most finish and other materials on the interior, exterior and grounds of any type of facility.

For the first time, HiPURformer(TM) puts the power of hot melt technology into the hands of maintenance personnel at apartment complexes, hospitals, office buildings, plants and other commercial and industrial facilities. HiPURformer(TM) replaces the hefty, cumbersome apparatus previously used to dispense polyurethane hot melt adhesive with a cordless, lightweight handheld applicator tool that can easily be carried anywhere inside or on the grounds of a building. The HiPURformer(TM) applicator employs small, 50-gram cartridges of hot-melt adhesive to handle repair and assembly projects of varying sizes and frequency.

Polyurethane hot-melt technology is heralded within the construction and remodeling industry for its ability to produce a strong, waterproof bond that can replace mechanical fasteners and is ideal for long-term outdoor exposure; achieve set times as quick as 30 seconds; reduce the need for clamping and/or bracing; and provide complete versatility in bonding the range of substrates. In addition, HiPURformer(TM) adhesives are VOC-free, for safe use in hospitals and other sensitive environments.

The HiPURformer(TM) Advanced Bonding System includes the applicator tool, developed by German manufacturer Steinel exclusively for use with HiPURfomer(TM) Advanced Bonding System; and three types of Titebond®-brand waterproof polyurethane hot melt adhesives. Two of the Titebond® adhesives are specifically designed to bond wood. The other Titebond® adhesive is a multi-purpose formula designed to bond wood, melamine, ceramics, metals, plastics, foamboard, glass/marble and many other materials that compose construction and finish materials.

The three Titebond® adhesive products are packaged in no-drip metal cartridges, which are inserted into the cylinder of the applicator. The applicator then is positioned within an electric, 120-volt base station to be heated for approximately 10 minutes. A status light on the station indicates that the adhesive has been heated to the appropriate working temperature for usage. The maintenance person simply lifts the cordless applicator tool from the base station to use. The tool operates for up to 20 minutes before requiring reheating. Each cartridge of Titebond® polyurethane hot melt adhesive provides approximately 71 linear feet of adhesive at a 1/16-inch bead. The adhesive can be re-heated over the 30-day shelf life of the cartridge, commencing from the time the cartridge is removed from the sealed, airtight pouch.

"HiPURformer(TM) is among the most significant innovations pioneered by Franklin over the years," said Nate Miles, vice president of Franklin's Construction Products Division. "It provides a cost-effective, simple solution to facilities maintenance and could easily become a maintenance tool as common as the hammer. We are extremely proud to bring this technology to our customers in building maintenance and operation."

Based in Columbus, Ohio, Franklin International was established in 1935 and today is among the largest privately held manufacturers of adhesives and sealants for commercial and industrial applications. Best-known for its Titebond® brand, Franklin integrates its core competency, emulsion polymerization, into a broad product offering, including glues, adhesives, hot melts, binders, films, sizing compounds and more. These products are distributed globally for use in construction, furniture manufacturing, millwork, paper converting, pressure-sensitive paper products, fiberglass reinforcement, and screen-printing.

More from Fluid & Gas Flow Equipment