Cord Retaining System is available for IEC C8 appliance inlets.
Press Release Summary: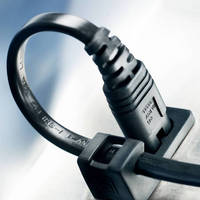 Requiring one screw for fastening to panel, cord retention system features retaining clip for IEC C8 inlets and mating cord sets. Clips fit SCHURTER series 2576 flange mount and 2578 snap in mount inlets. System is offered as complete kit, including retainer clip, inlet, and power supply cord. Designed and tested to achieve 200 N retention force with SCHURTER C8 inlets and mating cord, clip is also available separately for retrofitting.
---
Original Press Release:

SCHURTER Launches the First Cord Retaining System for IEC C8 Appliance Inlets



New clip is further addition to broad range of cord retaining systems



Santa Rosa, California – SCHURTER has expanded its broad range of cord retaining systems to include a new retaining clip for IEC C8 inlets and mating cord sets. The new clip is a further addition to the already successful wide range of SCHURTER cord retaining systems.



V-Lock, wire-bail and clamp systems have proven successful solutions in preventing the accidental disconnection of power cords from inlets according to IEC 60320; however these systems are only available for C14 and C20 appliance inlets. SCHURTER has now developed a cord retention system, with specially adapted retaining clips for C8 type inlets. The clips fit SCHURTER series 2576 flange mount and 2578 snap in mount inlets.



The IEC C8 inlet can save up to 34 percent of space compared to the C14/C17 inlet with wire-bail system and therefore allows for equipment downsizing, depending on the power requirements of the application. In addition, the new cord retaining system is more efficient, with only one screw required to fasten it to the panel. The system is sold as a complete kit including retainer clip, inlet and power supply cord. The clip is also available separately for retrofitting. The retaining clip is designed and tested to achieve a 200 N retention force with SCHURTER C8 inlets and mating cord. While other cord sets on the market may be compatible, technical specifications apply to SCHURTER types. The corresponding C7 power supply cords according to IEC 60320 are available in lengths of two or four meters and can be fitted with European or American plugs as required.



The new C8 cord retaining system is ideal for Audio/Sound systems, IT equipment and medical devices. Prices start at $4.50 each for 100 pieces. More information on the 2576 and 2578 kits can be found at http://www.schurterinc.com/New-Products/Connectors. Contact Cora Umlauf at 500 848-2600 or info@schurterinc.com for sales and product information.



About SCHURTER Inc.

SCHURTER is a progressive innovator and manufacturer of Circuit Protection, Connectors, Switches, and EMC Products to the electronic and electrical industries worldwide. SCHURTER's three divisions: Components, Input Systems and Electronic Manufacturing services are formed to provide customer specific products and services, which focus on clean and safe supply of power and making equipment easier to use. These core competencies bring a high degree of innovation to SCHURTER's main markets IT / Telecom, Medical, Space and Renewable Energy.



SCHURTER meets its customers' highest demands through certified quality, environmental and safety management systems including ISO 9001, ISO 14001, OHSAS 18001 and highly developed processes (Six Sigma method). Excellent services are upheld through the consistent application of an all encompassing quality management system.



SCHURTER Inc., Santa Rosa, California is the exclusive North America sales and distribution office for the SCHURTER Group.



SCHURTER INC.

447 Aviation Boulevard

Santa Rosa, CA 95403

Telephone 707 636 3000

Facsimile 707 636 3033

www.schurter.com

More from Construction Equipment and Supplies