Cord Reel solves tangling and storage problems.
Press Release Summary: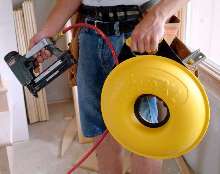 Flexible, yellow, doughnut-shaped Cordpro® divides, stores, and dispenses extension cords up to 100 ft in length without springs, ratchets, or motors. Portable system also stores and protects cord-ends when not in use. Product dispenses only required amount of cord, stopping payout when user stops pulling. Made of HDPE, unit is welded together at inseam, which is covered with rubber grip.
---
Original Press Release:

Innovative Cord Reel Solves Tangling and Storage Problems


First-ever extension cord and hose organization system that "travels" with user without springs, ratchets and motors

Disorganized, tangled and unruly extension cords and hoses can cause frustration and waste time. A unique, simple and inexpensive solution to cord and hose organization is being manufactured and sold by BurkTek, Inc. The product is called Cordpro®. (It also has a beefier cousin called, Cordpro XL®.)

Cordpro is a flexible, yellow, doughnut-shaped reel that divides, stores and dispenses extension cords without springs, ratchets or motorized mechanisms. Because Cordpro has no moving parts it can't break down. Unlike other automatic dispensing reels, it will hold a full 100-foot length of cord and also stores and protects cord-ends when not in use.

As the user pulls an extension cord from Cordpro, it rotates, dispensing only the amount of extension cord needed, leaving the rest nestled neatly inside the reel. As the user moves (for example, walks away from the outlet being used or cuts grass with an electric lawnmower), Cordpro will travel behind him or her and continue paying out the exact amount of cord needed. Because of the physics involved in its shape and its spinning motion while dispensing, Cordpro can "climb over" debris and other objects. When the user stops pulling, Cordpro stops dispensing the cord.

"Cordpro's ability to travel, combined with its rotating motion, sets it aside from all other reels," explained Don Burke, creator of Cordpro. "There are about a dozen equations of physics occurring as Cordpro follows the user, rotates and dispenses the extension cord. That circular movement also allows it to climb over obstacles, such as debris at a job site, a curb or up steps."

Cordpro is made of high-density polyethelyne (the same material from which pick-up truck bed liners are made). It is "welded" together at the inseam and that seam is then covered with an ergonomic rubber grip. The reinforced eyelet allows it to hang on a pegboard, a tool trailer or a basement wall. It is lightweight- only 13 ounces (without cord)-yet it's tough enough for any job-site, garage or yard. It is suitable for outdoor use in all temperature extremes.

A divider within Cordpro is the unique key to its effectiveness. A user threads the extension cord through the divider. He or she then wraps the cord. The divider automatically diverts the cord into its appropriate compartment. When finished, the ends of the cord may be left out or neatly tucked inside the Cordpro. To use, insert the cord in an outlet receptacle. Plug electric device into other end of cord. As you need more cord, simply pull. Cordpro will automatically dispense more cord!

"Cordpro is unique and simple, not magic," said Burke. "Often the simplest products are the most effective."

When a project has been completed, rewind the cord into Cordpro. Hang on a wall or place on a shelf.

Cords and hoses commonly stored and dispensed with Cordpro

o Household extension cords
o Construction power cords
o Signal cords
o Coaxial cable for RVs
o Freshwater hoses
o Compressed air hoses
o Shoreline power cords

Cordpro is manufactured by BurkTek, Inc. of Kansas City, Missouri. For more information about Cordpro and Cordpro XL, visit www.cordpro.com. Or call BurkTek at 800-700-6784.

Related