CoPro+ Selects Lorin Industries Products For Outstanding Quality and Value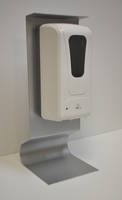 Lorin's Sturdy, Portable Hand Sanitizer Stand for a Sleek and Modern Look
Muskegon, MI – Lorin Industries, Inc., the global industry leader in the innovation and production of coil anodized aluminum, is proud to announce that its Sanitizer Stands and Automatic Sanitizer Dispensers have been selected by CoPro+, a shared services purchasing solution developed by the Michigan Association of Counties. This contract award demonstrates industry recognition of the outstanding quality and value of Lorin Sanitizer Stands and Dispensers.
These new sleek and modern floor and counter stands for hand sanitizer dispensers are made in the USA, built from Lorin's signature anodized aluminum. Available in multiple configurations, the touchless dispensers help reduce the spread of germs, keep the environment clean, and maintain employee and customer health and safety, all while incorporating stylish design elements.
The anodized aluminum is lightweight and strong, making the Lorin free-standing Sanitizer Stands portable and therefore easier to install and maintain than wall-mounted options. The sturdy floor version is suitable for high traffic areas such as lobbies, schools, churches, gyms, offices, factories, malls and other retail locations, and family gatherings. The countertop versions come in three configurations, with curvilinear, angular, or rectilinear designs to bring a modern, stylish touch to touchless hand sanitizer dispensers.
For more information about Lorin anodized aluminum, visit https://www.lorin.com.
About Lorin
Lorin Industries, Inc. has provided coil anodized aluminum to markets worldwide for over 60 years. Our history of global leadership in anodized aluminum finishing for architectural markets began with bringing the process to market in 1953, and continues today with industry leading innovation. Lorin has worked with some of the world's foremost architects, designers, and fabricators to create new and exciting building designs that last throughout generations.
Whether used for exterior wall cladding systems, roofing systems, sunscreens, interior panels, or decorative interior applications, the possibilities for coil anodized aluminum are infinite. The natural beauty of Lorin's anodized aluminum finishes brings newly constructed and renovated buildings to life, while providing a strong durable surface that will never chip, flake, or peel. Additionally, Lorin's coil anodized aluminum products have been used for automotive, transportation, consumer appliances, and any number of other industries, with the same excellent aesthetics and durability long proven in architectural applications. At Lorin, we can help you reflect your vision with Lorin anodized aluminum.
For additional information visit www.lorin.com and follow Lorin on Twitter, Facebook, and LinkedIn.
Contact: Kristin Nugent
McNeil, Gray & Rice, Inc.
617-367-0100 ext. 148
kristin.nugent@mgr1.com