Copperloy's New Yard Ramps Come with One-Cylinder Design
Press Release Summary: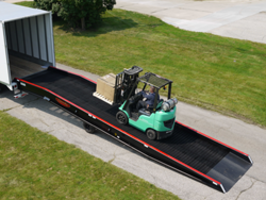 Copperloy's Yard Ramps are designed for freight loading/unloading production on the ground or outside in to the cargo. The ramps are redesigned to OSHA safety standards with heavy-duty steel ramps. Units come with solid-filled pneumatic tires and a position sleeve with three points of connection. Featuring 15 in. lip, 8 ft safety chains and 7 in. safety curbs for preventing accidental runoff, these portable yard ramps simplifies the process of loading and loading.
---
Original Press Release:
Copperloy Improves Freight Loading/Unloading Production with Their New Yard Ramp, a Portable Mobile Loading Ramp
TWINSBURG, OHIO (PRWEB) APRIL 20, 2018
Copperloy announced the launch of their advanced series of yard ramps that offer shipping crews a faster, more efficient method to load/unload trucks.
Yard ramps can be used to load cargo that is outside, on the ground, or loaded from a facility without a shipping dock. Yard ramps are portable loading ramps that allow forklifts to go from ground to truck-height ten times faster than using a truck's lift gate. A yard ramp is also used to expand shipping production when all the docks are being used and heavy-duty steel ramps can be used for over-sized freight.
The new Copperloy yard ramp has been re-engineered, allowing it to be positioned at the truck, ready to load up to two-and-a-half times faster than the average industry portable yard ramp. Copperloy performed timed raising and positioning studies of all their competitors' loading ramps, including Bluff yard ramps, Vestil ramps, Discount Ramps, HandiRamp and Yard King. A comparison video showing the performance of Copperloy loading ramps can be viewed on YouTube at https://www.youtube.com/watch?v=cqCZEQsKoQs
The increased performance and time-saving enhancements can be attributed to a redesign from the traditional two-cylinder hydraulic system to a one-cylinder design. The one-cylinder design uses less pressure to lift the ramp when compared to traditional yard ramps with two-cylinders. This allows for not only easier operation, but faster raise time as well.
"Feedback from our dealers and end users has been great," says Copperloy's Vice President of Operations John Hallack, "Customers love how quick and easy it is to use. We now maintain an inventory of the most popular ramps which is helping our dealers with fast order fulfillment."
The redesign also focuses on improved safety and OHSA-compliance. Below is a list of design and safety feature improvements: 
 The yard ramp rises evenly with the one-cylinder design, providing greater stability.
The central location of the cylinder reduces the chance of tipping.
Pump location on the outside of the ramp frame allows for easy access at all times.
Solid-filled pneumatic tires can handle rugged terrain without the potential for punctures or air pressure problems.
Rotation occurs on the redesigned positioning sleeve instead of the ramp connection, reducing wear on the ramp structure.
The 15-in lip and 8-ft safety chains keep the mobile ramp secure to the truck.
The 7-in safety curbs help prevent accidental runoff.
The position sleeve has three points of connection, which greatly reduces the likelihood of it disconnecting during irregular maneuvers.
Contact Copperloy to find out more about the benefits of the redesigned yard ramp.
Backgrounder
For over 60 years, Copperloy has been the leader in manufacturing quality, durable loading dock equipment for material handling. All products are manufactured to meet applicable industry and safety standards, including mobile ramps, dock to ground ramps, dock boards, used yard ramps, forklift ramps, yard ramp rentals, loading dock lifts and more.
More from Mechanical Components and Assemblies