Copper Tape suits heat sealing units in packaging equipment.
Press Release Summary: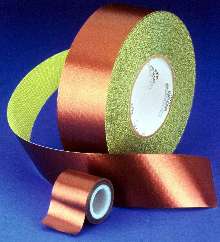 CHEMLAM® uniform, pinhole-free, hardened film is dimensionally stable and resistant to tears, punctures, abrasion, and wear. With layer of PTFE film over PTFE impregnated fiberglass fabric, tape acts as replaceable non-stick surface and prevents flexible packaging films from melting onto heating element and impeding production. It operates effectively at temperatures from -100 to +500°F and is suitable for acrylic adhesive and silicone adhesive processes.
---
Original Press Release:
New CHEMLAM® Copper Tape Delivers Superior Value as Release Surface for Packaging Equipment

Longer Working Life Means Fewer Replacements Needed

CHEMLAM® Copper tape, a new CHR adhesive tape product from Saint-Gobain Performance Plastics, offers exceptional durability as a replaceable release surface for packaging equipment. Featuring a layer of PTFE (polytetrafluoroethylene) film over PTFE impregnated fiberglass fabric, CHEMLAM Copper tape lasts longer and provides greater release properties than comparable tapes, which are simply coated fabrics with adhesive layers. Because it lasts longer, CHEMLAM Copper tape doesn't need to be replaced as frequently as other tapes. This minimizes downtime and provides a lower "cost per seal."

CHEMLAM Copper tape acts as a replaceable non-stick surface for heat sealing units in packaging equipment, preventing flexible packaging films from melting onto the heating element and impeding production. CHEMLAM Copper tape operates effectively at -100°F to +500°F, suitable for both low temperature (acrylic adhesive) and high temperature (silicone adhesive) processes.

CHEMLAM Copper tape is fiberglass fabric impregnated with PTFE dispersion, laminated to PTFE film and coated with pressure-sensitive, clean release adhesives. The uniform, pinhole-free hardened film enables CHEMLAM Copper tapes to outperform thicker, higher resin-content coated fiberglass tapes at similar prices. CHEMLAM Copper tape is dimensionally stable and resistant to tears, punctures, abrasion and wear.

In addition to packaging applications, the durability and anti-stick properties of CHEMLAM Copper tape make it an ideal material for lining guide rails, chutes and slides. Its high temperature capabilities and chemical resistance also allow it to perform as an excellent release surface for platen covers, dry can covers, the composite aircraft industry, and in severe industrial environments.

CHEMLAM Copper tape is available in 4, 6, and 10 mil thicknesses and widths from 1/4" to 37" wide. Standard roll lengths are 18 or 36 yards long, available with or without a liner.

CHEMLAM Copper is the latest addition to Saint-Gobain's line of CHR® pressure sensitive adhesive tapes. For more information contact: Saint-Gobain Performance Plastics Corporation, 14 McCaffrey Street, Hoosick Falls, NY 12090. Tel: 1-800-962-2666. FAX: 1-800-526-8479. www.plastics.saint-gobain.com.

Chemlam is a Registered Trademark