Coperion K-Tron Releases Improved D5 Scale with Enhanced Features for its High-Accuracy Loss-in-Weight Feeders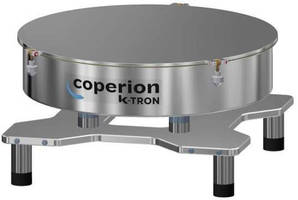 Niederlenz, Switzerland - Coperion K-Tron announces the release of the redesigned D5 scale for its high-accuracy loss-in-weight feeders. The new design encompasses a variety of improvements, including a focus on hygienic applications and ATEX 3D rating already in the basic version, making it the ideal choice for any type of environment. Along with changes in the manufacturing process, the redesign has further improved accuracy and reliability of the D5 scale.



The new Coperion K-Tron D5 scale is available as a standard stainless steel version or as a pharmaceutical version featuring polished material contact surfaces Ra 0.8. The benefits of the new scale design include better cleanability and reduced displacement when under high weight load.



Versatile mounting options enable the D5 scale to adapt to different installation sites. Both the standard and pharmaceutical versions of the scale can be provided with an X-frame support. The X-frame for pharmaceutical environments has a special design that meets stringent pharma requirements. Where no X-frame support is desired, the D5 scale can be provided with four small feet, raising the scale above the subjacent surface and providing enough space for cleaning underneath it. Here the cable entry gland is located within a foot. A project-specific baseplate, frame or platform can be provided instead of the X-frame or feet as an option.

The new design is completely compatible with the previous model, making replacement in the field easy and spare parts interchangeable.



The basic version of the D5 scale is rated ATEX II 3D Ex tc IIIC T60°C Dc IP65 for explosion protection. Soon to follow is the intrinsically safe version of the redesigned D5 for ATEX category 2GD (Gas Zones 3, 2, and Dust Zone 21).



Coperion K-Tron (www.coperionktron.com) is a Business Unit of Coperion (www.coperion.com) and is a global leader and single source supplier of material handling and feeding systems. Coperion K-Tron has defined the leading edge of technology for material handling and feeding applications in the process industries. For more information visit www.coperionktron.com or email info@coperionktron.com.



Coperion (www.coperion.com) is the international market and technology leader in compounding systems, feeding technology, bulk materials handling systems and services. Coperion designs, develops, manufactures and maintains systems, machines and components for the plastics, chemicals, pharmaceutical, food and minerals industries. Within its four divisions – Compounding Extrusion, Equipment Systems, Material Handling and Service – Coperion has 2,500 employees and nearly 40 sales and service companies worldwide. Coperion K-Tron (www.coperionktron.com) is a brand of Coperion.







More from Communication Systems & Equipment