Coordinate Measuring Machine suits auto body applications.
Press Release Summary: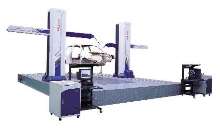 Auto Body CMM is configured around single or optional dual, horizontal CNC/CMM 3-axis probe head system operating, respectively, from 1 or 2 pylons positioned alongside open bay. Multi-sensor system utilizes Metris LC(TM)-series non-contacting digitizing probes and variety of scanning, vision, or conventional touch probe inputs. It provides measurement and inspection of best fit, edge/hole search, surface fit, and large data-cloud processing.
---
Original Press Release:

Mitutoyo Introduces Advanced CMM System for Full Auto Body Applications


(Aurora, IL) Mitutoyo America Corporation announces the availability of a new, coordinate measuring machine (CMM) system specific for auto body applications.

The new Mitutoyo CMM auto body system is a large machine, engineered for high accuracy and maximum productivity. The system is configured around single or optional dual, horizontal CNC/CMM 3-axis probe head system operating, respectively, from one or two pylons positioned alongside a large, open bay. The bay is sized to accommodate car and light truck body assemblies and other similar, large-envelope components.

The new auto body CMM is a multi-sensor system utilizing Metris LC(TM)-series high-speed, non-contacting digitizing probes (2- or 3-axis) and a variety of scanning, vision or conventional touch probe inputs. System software compensates for temperature and surface variations to ensure quality data acquisition under varying conditions.

The Mitutoyo auto body CMM has the speed, acceleration and resolution to help shorten lead times and yield higher quality when used in measurement/ inspection of:
o Best fit
o Edge/hole search
o Surface fit
o Large data-cloud processing

SPECIFICATIONS


Type                       Horizontal	   

Measuring range	           X: 6000      Z: 2400         Y: 1600

                           (X: Max. 1800 mm   Y: max. 2000mm   Z: Max. 3500 mm)	   

Speed                      500 mm/s (866mm/s : Vector)	   

Measuring speed	           5mm/s (Target: 10mm/s)    TP200

Acceleration	           0.12G (0.2g: Vector)	   

Resolution	           0.1 µm	   

Accuracy :E                Single: 25+28L/1000

16 ~ 26°C (32°C)	   Dual:   50+35L/1000

Mitutoyo America Corporation's nationwide network of Metrology Centers and support operations provide application, calibration, service, repair and educational programs for industry. This ensures that our 6,000+ metrology products will deliver measurement solutions for our customers throughout their lifetime. Contact Mitutoyo America Corporation, 965 Corporate Boulevard, Aurora, IL 60504. Phone: (630) 978-5385 Fax: (630) 820-7403 E-mail: info@mitutoyo.com Or visit our website at www.mitutoyo.com

More from Robotics