Coordinate Measuring Machine comes with full suite of software.
Press Release Summary: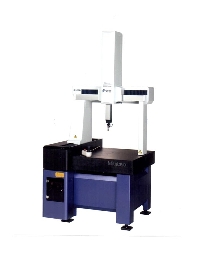 Plant-floor CNC Crysta Plus 504 includes GEOMeasure(TM) measurement and tolerancing software for 3-D, general-purpose work; CADMeasure(TM) for interfacing to CAD systems plus off-line programming; and SCANMeasure(TM) for continuous or discreet point analysis of surfaces and curves. Measurlink(R) SPC software captures and reports quality levels in real-time and offers networking capability. Crysta Plus 504, with precision glass scales, provides resolution of 0.000004.
---
Original Press Release:

New CNC Crysta Plus CMM is Plant-Floor Friendly


(Aurora, IL) Mitutoyo America Corporation announces a new entry into the small/medium CNC CMM arena that will be of particular interest to companies planning their first investment in an economical CNC machine. Also, to those looking for a plant-floor CMM to integrate into their production processes.

Even at temperature extremes from 60.8 deg F to 78.8 deg F (16 deg C to 26 deg), there is no compromise of accuracy when the available real-time temperature compensation is applied. Temperature sensors can be located on each CMM axis, plus two sensors monitor the part temperature. This makes the Crysta Plus 504 ideal for use within - or adjacent to - manufacturing areas to monitor process performance quickly, accurately and routinely

The new Crysta Plus 504 CMM utilizes Mitutoyo's proven lightweight alloy moving structure delivering high acceleration, stability of travel and no vibration to influence measured results. The precision glass scales offer enhanced resolution of 0.0001mm (.000004"). Within its measuring range of X = 505mm (20"), Y and Z = 405mm (16"), the Crysta Plus 504 has a specified volumetric accuracy of (2.9+4L/l000) micro m per ISO standards.

Additional design features include a rugged, one-piece standard base for ease of installation, complete internal wiring and simplified construction. These contribute to ease of maintenance and superior reliability. Most of all, the optimized design of Crysta Plus 504 allows it to be introduced at a cost within reach of many more shops -at no sacrifice in performance.

The full suite of Mitutoyo measurement software is available, starting with the standard GEOMeasure(TM) CNC CMM measurement and tolerancing software for 3-D, general-purpose work. Extended modules include CADMeasure(TM) for interfacing to CAD systems plus off-line programming and SCANMeasure(TM) for continuous or discreet point analysis of surfaces and curves. Measurlink(R) SPC software captures and reports quality levels in real-time and offers networking capability to centralize data.

Mitutoyo America Corporation's nationwide network of Metrology Centers and support operations provide application, calibration, service, repair and educational programs for industry. This ensures that our 6,000+ metrology products will deliver measurement solutions for our customers throughout their lifetime. Contact Mitutoyo America Corporation, 965 Corporate Boulevard, Aurora, IL 60504 Phone: (630) 978-5385 FAX: (630) 820-7403 E-mail: info@mitutoyo.com Or visit our website at www.mitutoyo.com