Cooling Towers offer high capacity closed circuit design.
Press Release Summary: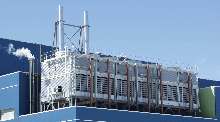 Dual air inlet induced draft FXV products utilize dual coil bundles and wet deck heat transfer surfaces on one common fan system. Cells can be multiplexed side by side, and thermal performance is independently certified by Cooling Technology Institute. Design incorporates Combined Flow Technology, which joins heat exchanger and cooling tower into one unit. Process fluid to be cooled is kept clean in contaminant-free closed loop.
---
Original Press Release:

Baltimore Aircoil Company Announces the Introduction of the Highest Capacity Closed Circuit Models in the Industry.


Baltimore, MD (November 12, 2003) - Baltimore Aircoil Company (BAC) is pleased to announce the addition of new models to the induced draft FXV product line, significantly expanding its closed circuit cooling tower offerings. The FXV line, originally consisting of all single air inlet cells, now includes larger, higher capacity dual air inlet models. These new cell sizes extend the FXV design by utilizing dual coil bundles and wet deck surfaces on one common fan system. The result is the highest thermal capacities available in a single, stand-alone, factory assembled closed circuit cell. Projects benefit from fewer required cells, lower overall fan horsepower, and fewer piping connections. Cells can be multiplexed side by side, resulting in smaller plan area, low installed cost, and low operating cost.

In addition, new lower fan horsepower single air inlet models have been added to further complement the FXV line in the smaller capacity ranges. The thermal performance of all FXV models, both single and dual air inlet, are independently certified by the Cooling Technology Institute (CTI). CTI Certification eliminates the need for costly on-site field tests and ensures system performance will meet design objectives, all at no cost to the project.

The FXV design, backed by thousands of successful installations worldwide, incorporates BAC's patented Combined Flow Technology, which employs a combination of coil and wet deck heat transfer surfaces to increase performance as compared to conventional closed circuit technology. The entire FXV line features easy access for maintenance, low sound levels, and low operating weights. "The addition of these new models to the FXV line will maintain the FXV as the premier closed circuit cooling tower in the industry today", comments Frank Morrison, Product Manager, Closed Circuit Cooling Systems.

About Closed Circuit Cooling Towers

Closed circuit cooling towers combine a heat exchanger and cooling tower into a single compact unit. The process fluid to be cooled is kept clean in a contaminant-free closed loop in contrast to open circuit cooling towers. The lower fouling of the closed loop reduces system energy consumption by allowing the process to run at peak efficiency over time, while reducing system maintenance costs. Because of the closed loop, cooling fluid pressure drops are typically reduced, and the closed circuit tower can even be installed below the equipment to be cooled, allowing layout flexibility. Typical applications include water source heat pump loops, air compressor cooling, water cooled chillers, and distributed cooling loops - anywhere the reduced maintenance and increased reliability of a closed loop cooling system is desired.

Baltimore Aircoil Company is the world leader in the design and manufacture of evaporative cooling and heat transfer equipment. Founded in 1938, BAC offers the broadest range of evaporative heat transfer products in the industry. Products and services include open cooling towers, closed circuit cooling towers, industrial process coolers, evaporative condensers, Aircoil(TM) evaporators, ice thermal storage, heat exchangers, and IoBio® Microbiological Control. Headquartered in Baltimore, Maryland, BAC has manufacturing capabilities in 17 countries.

For more information about Baltimore Aircoil, visit www.BaltimoreAircoil.com or contact:

Baltimore Aircoil Company
P.O. Box 7322
Baltimore, MD 21227
Phone: 410-799-6200
Fax: 410-799-6416
E-mail: info@BaltimoreAircoil.com

More from Electronic Components & Devices