Cooled CCD Color Camera captures quality images in any light.
Press Release Summary: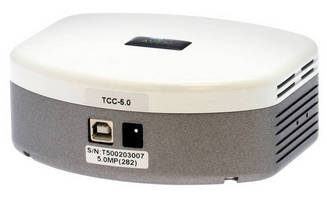 Suited to clinical, life science, and material science applications, Item No. 26100-242 can upgrade microscopes with Hi-Res imaging in any lighting environment. This 5.0 megapixel CCD camera offers exposure times and Peltier cooling that enable detailed color image capture. Employing Sony 2/3 in. color sensor, scientific-grade accessory shoots 10-30 fps, depending on resolution, and incorporates USB 2.0 interface for transfer of images to desktop/laptop computer.
---
Original Press Release:

Aven Cooled CCD Color Camera Delivers High Quality in Any Light



- A new 5.0 megapixel CCD camera from Aven, Inc. upgrades microscopes with high-resolution imaging in any lighting environment. Sharply detailed color images can be captured in low illumination, thanks to long exposure times and Peltier cooling.

Aven's first cooled CCD camera is suited to clinical, life science and material science applications involving dark-field imaging, fluorescence and other challenges. Cooling the Sony 2/3" color sensor lets users capture high-quality, noise-free color images at even the lowest transmitted light intensity.

"This scientific-grade accessory is designed for biotechnology, R&D engineering, pathology, other medical specialties, forensics and professional education," says Mike Shahpurwala, president of Aven. "Image processing and measurement software is part of the ready-to-use system."

Cooling the sensor 30 degrees Centigrade below ambient temperature creates a high signal/noise ratio in any illumination. "That's why we replaced earlier models to offer this as Aven's only CCD microscopy camera," says Shahpurwala. "Scientific-grade imaging in bright or low light is a significant benefit."

A C-mount is provided to let the camera couple with standard microscopes and a high-speed USB 2.0 transfers images to a desktop or laptop computer. The TSView program supports image analysis, calibration, annotation and other processing.

Acquired images display immediately on the screen, where they can be sharpened with contrast, brightness, white balance, graying and color adjustments. Frames also can be rotated, expanded or reduced.

The 5.0 megapixel Sony camera shoots 10 to 30 frames per second, depending on resolution. Automatic or manual exposure settings run from a milisecond to an hour. White balance also can be automatic or adjusted manually.

In addition to PC-compatible software, Aven's Cooled CCD Camera set includes an aluminum case and eight-foot USB cable, which transmits data at 480 MBs.

For more information, call Aven at (734) 973-0099. A digital catalog is at http://www.aventools.com/sales-info.html.

Visit Aven at Booth E-5272 of the International Manufacturing Technology Show (IMTS) in Chicago from Sept. 10-15, 2012.

Aven, Inc. manufactures and distributes high-performance optical instruments and precision tools for microscopy, inspection and assembly. More than 800 products include video inspection systems, integrated portable microscopes, video borescopes, task lights, stainless steel tools for lab use and precision hand tools such as tweezers, pliers, cutters, screwdrivers, crimpers, knives and alignment tools. Brands include Mighty Scope, iLoupe, iVue, Technik and Accu-Tek.

An electronics innovator since 1983, Aven is located in a high-tech corridor of Southeast Michigan and is the parent company of SharpVue, which designs and manufactures integrated digital microscope technology.

More from Computer Hardware & Peripherals