Coolant Recovery System helps reduce endotoxins.
Press Release Summary: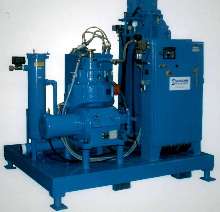 Pioneer integrated on-site coolant recovery system includes disc centrifugation and flash pasteurization to end rancidity, coolant odor, and dermatitis caused by coolant contact. Reduction of bacteria in coolants helps prevent development of endotoxins. Unit removes solids to 1 micron and tramp oil to 0.25%, and processes water-soluble and semi-synthetic coolants. It can return 95% of recoverable fluids for reuse.
---
Original Press Release:
Coolant Recovery System for Central Sumps Includes Centrifugation and Pasteurization to Help Reduce Endotoxins

Sanborn Technologies, Walpole, MA manufactures the Pioneer integrated on-site recovery system for coolants. Design includes high-speed disc centrifugation and flash pasteurization that has been proven in hundreds of installations to end rancidity, coolant odor and dermatitis caused by coolant contact. The reduction of bacteria in coolants is an important preventive to reducing the potential for the development of endotoxins.

The Pioneer removes solids to 1 micron, tramp oil to 0.25% and reduces bacteria to the levels found in freshly mixed coolant. All purity specifications are backed by a process guarantee.

Systems designed for flexibility can process both water-soluble and semi-synthetic coolants and return at least 95% of the recoverable fluids for reuse. Used as polishing systems along with other gross filtration devices, single units can be designed to control sump sizes up to 20,000 gallons.

Sanborn Technologies offers a full line of centrifugal separations products for the ceramic and metalworking industry. A complete line of pilot plant equipment is available.

For more information on Sanborn Technologies' products contact: Steven Friedman at 1-508-660-9150 x 3112 or email sales@sanborntechnologies.com
Related