Coolant Filtering System separates fine particulates.
Press Release Summary: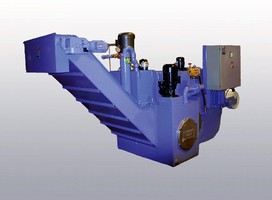 Installed on floor or as pit mount and using single pump, VacuFilter(TM) coolant cleaning system works with single machine tools or multiple machines. Contaminated fluids are drawn through filter media supported by septum plate to catch solids, which are pulled away for disposal by drag conveyor. Media is selected based on fluid type, workpiece materials, and process/particulate form. Indexing of media is actuated automatically via sensor monitoring vacuum box pressure.
---
Original Press Release:

Mayfran Introduces New Coolant Filtering System at `06 IMTS



At IMTS 2006, Mayfran International (Cleveland, OH) showcased its lineup of advanced coolant recovery technologies and chip handling systems, highlighted with the new VacuFilter(TM) coolant cleaning system. The VacuFilter is suitable for use with virtually all types of cutting fluids and lubricants, and can be used in general purpose machining operations. It is ideally efficient for applications such as grinding, honing, lapping and polishing, gun drilling, and parts washing where fine particulates separation is required.

The VacuFilter is a compact system that can be installed on the floor or as a pit mount, and works with single machine tools or multiple machines with the assistance of auxiliary pump backs. In operation, the unit draws contaminated fluids through a filter media (either disposable, permanent or a combination of the two) that is supported by a septum plate to capture the solids - a simple drag conveyor is used to pull and elevate the media, with its netted sludge and particulates, to a discharge area for disposal. Indexing of the media is actuated automatically via a sensor that monitors the vacuum box pressure, i.e., as the pressure differential between the clean coolant side and contaminated side increases due to particulate build up on the filter media and reaches a predetermined level, a signal is sent to the VacuFilter control unit to initiate an index. Importantly, during an index cycle, there is no interruption of coolant/lubricant flow to the machine tool, the process, or the work piece and tooling.

VacuFilter's efficient design, using just a single pump, means fewer parts and reduced maintenance needs, plus long service life and durability. The media is selected based on the application parameters such as fluid type, workpiece materials, and process/particulate form. In addition virtually all undesirables including tramp oils, soaps, split emulsions and contaminates are removed.

Mayfran also offers a series of optional and auxiliary equipment to optimize the performance and efficiency of the VacuFilter in a variety of application conditions. This list includes a disposable media re-winder that recoils the spent media after exiting the discharge area and, by keeping tension on the media, helps in the reclamation of filtered particles such as machining chips. The permanent media option consists of a woven polyester belt, with the specified weave tightness providing the filtering level, and a back wash unit to clean the media before being re-indexed into the filtering cycle. In some applications, it may be beneficial to combine both a permanent belt for normal operation and a finer disposable media style filter for periodic higher level filtering...the VacuFilter can use one in conjunction with the other to achieve needed filtration levels.

Additional options include high pressure packages, media carrier belt mechanisms, temperature control chiller units, a tramp oil handling package, and the supplemental security of adding Mayfran's AT-Cleaner filtering system for extremely fine particles produced by operations such as polishing. The VacuFilter may also be provided with a customer specified control package, ranging from basic relay-logic technology to PLC with MMI screens and displays, and control panel configurations to also monitor and manage the operations of included optional devices and auxiliary equipment in the filtering package.

The VacuFilter can also be used with Mayfran's new Coolant Control Center that is designed to automatically control the volume and condition of the industrial fluids. It mixes coolant and water at determined ratios, refills tank reservoirs, and offers options for measuring PH levels, temperature, conductivity and concentration levels.

The Mayfran IMTS exhibit also included a variety of filtration and chip handling technologies such as the VBU chip wringer for drying chips and recovering residual coolant and the CCC Coolant Control Center for continuous real time in-line monitoring of coolant. To optimize machine tool chip/coolant handling, a ConSep combination chip conveyor/coolant cleaning unit, plus the overhead-installed Viavent® centralized system for multi-machine use were demonstrated.


More from Transportation Industry Products