Coolant Delivery System uses ultrasonic cooling nozzles.
Press Release Summary: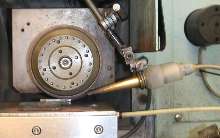 To facilitate grinding, Megasonic Cooling System uses highly accelerated and focused coolant streams produced by vibration transducer of megahertz order placed in nozzle. Resulting permeability and vibration acceleration removes fine particles. System is suited for grinding of hard materials, such as LCD glass-edge polishing and super-hard metals. Optional sacrificial front nozzle, made of soft material, has exit which faces grinding wheel.
---
Original Press Release:
New Ultrasonic Coolant Delivery System from Engis Boosts Grinding Performance
WHEELING, IL - Engis Corporation will launch its new Megasonic Cooling System in the North American machining market at IMTS 2004. The system, on display at IMTS 2004 Booth # B7422, utilizes ultrasonic cooling nozzles to reduce coolant consumption, increase stock removal efficiency, extend grinding wheel life and provide enhanced surface finish characteristics. The new system of ultrasonic nozzles uses the Megasonic Coolant method, invented by Professor Suzuki Kiyoshi, of the Nippon Institute of Technology. Efficient grinding operations require the supply of an adequate amount of grinding fluid to the grinding point, but the air barrier created by the rotating grinding wheel often reduces the amount of coolant actually reaching the cutting face. Professor Kiyoshi's invention takes aim at breaking down this barrier. Grinding hard materials using superabrasive wheels can lead to considerable wheel-wear due to the accumulation of ground chips in the chip pockets of the wheel and the superabrasive grains falling out of the wheel surface. The Megasonic Coolant method uses highly accelerated and focused coolant streams produced by a vibration transducer of megahertz order placed in the nozzle. The resulting high megasonic permeability and vibration acceleration removes these fine particles. Professor Suzuki has demonstrated that a Megasonic Coolant System can improve performance significantly, due to the coolant reaching the grinding point, thus resulting in more effective cooling and lubrication. Megasonic coolant systems can also be supplied with a sacrificial front nozzle, which is made of a relatively soft material, with an exit facing the grinding wheel. The Megasonic method is particularly applicable to the grinding of very hard materials, such as LCD glass edge polishing and super-hard metals, and results in improved surface finish. Research undertaken by Professor Suzuki and his team has demonstrated that coolant supplied by Megasonic Coolant Nozzles can improve the grinding ratio, surface quality and grinding efficiency while reducing coolant consumption. In experiments using the Megasonic Floating Nozzle a reduction in wheel wear of up to 40% was observed, in addition to an increase in the grinding ratio of 2 times, and an improvement in surface roughness of up to 30%. The system is available in North America from Engis Corporation, and will be on display in the Engis exhibit at IMTS 2004, in booth # B7422, along with the company's Electrogrip® line of custom diamond-plated grinding wheels and products. Engis Corporation, based in Wheeling, IL, is the world leader in developing superabrasive finishing technologies and systems. For more information, contact Ken Werner at 847-808-9400, or send an e-mail to sales@enois.com. On the web: www.engis.com.
More from Sensors, Monitors & Transducers