Convolute Tubing targets high performance applications.
Press Release Summary: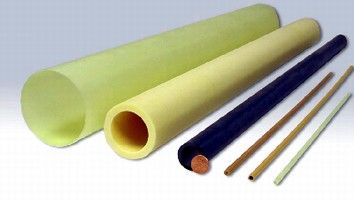 Offered in 18-24 in. lengths, Micro ID Tubing features 0.094-0.187 in. ID and 0.156-0.500 in. OD. Phenolic paper grades such as RT629 and RT630 are used in electrical, heavy industrial, and general-purpose applications, while RTB320X, composed of extra-fine weave linen cloth and phenolic resin, is suited for ball bearing retainers in rotary equipment. Glass fabric grade, RT500X, uses extra-fine weave glass reinforcement with epoxy resin for cryogenic insulation.
---
Original Press Release:

Norplex-Micarta Announces Micro ID Tubing For High Performance Applications



POSTVILLE, IA - Norplex-Micarta, the leading manufacturer of high performance thermoset composites, announces the availability of Micro ID convolute tubing materials. Micro ID tubing is ideal for such high performance applications as extra-fine bearings in the electrical market and insulation and support components in the LNG market. Inside diameters for Micro ID tubing range from 0.094" - 0.187" and outside diameters range from 0.156 - 0.500". Norplex-Micarta normally delivers all Micro ID tubing products within two to three weeks of receipt of order.

Norplex-Micarta Micro ID tubes are available in lengths of 18" - 24" with paper, cotton, or glass fabric substrates. Phenolic paper grades such as the RT629 and RT630 are used in electrical, heavy industrial, and general purpose applications for extra-fine bearing. The RTB320X, composed of an extra-fine weave linen cloth and phenolic resin, is ideal for applications requiring mechanical strength and low abrasion, such as ball bearing retainers for high speed, small diameter rotary equipment. A glass fabric grade, such as the RT500X, utilizes an extra-fine weave glass reinforcement with an epoxy resin system for cryogenic insulation and support components for LNG storage containers.

Norplex-Micarta tubing composites are available in various sizes, with inside diameters ranging from 0.094" - 48" and outside diameters of 0.156" - 58". Wall thicknesses range from 0.031" - 500". Norplex-Micarta tubes meet requirements of NEMA/ASTM Grades X, XX, XXX, C, FR4, LE, G3, G5, G7, G9, and G10 for tubing.

About Norplex-Micarta
Norplex-Micarta is the leading manufacturer of high performance thermoset composites. Norplex-Micarta's vast product line serves power generation, military/aerospace, oil & gas, medical devices, electrical devices, electronics assembly, construction, heavy industry, and transportation markets throughout Europe, Asia/Pacific, and The Americas. Norplex-Micarta is located at 665 Lybrand Street, Postville, IA 52162; Tel: 563-864-7321; Fax: 563-864-4231; E-mail: info@norplex-micarta.com; Web: www.norplex-micarta.com.

For more technical information, contact:
Alan Johnson, Director of Business Development
NORPLEX-MICARTA
665 Lybrand Street
Postville, IA 52162 USA
TEL: +1 563-864-4275; FAX: +1 563-864-4231
EMAIL: ajohnson@norplex-micarta.com

More from Agricultural & Farming Products