Conveyorized Coater/Dryer offers speeds up to 20 ipm.
Press Release Summary: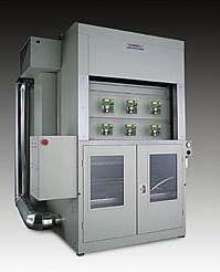 Model 4246 dip coater and infrared dryer system dip coats printed circuit boards in protective conformal coatings, and dries coatings at rates between 2-20 ipm. Stainless steel dip tank includes recirculation and filtration system to maintain quality of conformal coating. Dryer section consists of 6 Glenro Radplane(TM) Series 36 low-temperature electric infrared heaters, which are regulated in single zone and offer total connected power of 18 kW.
---
Original Press Release:

Glenro Conveyorized Dip Coater and Dryer for Conformal Coatings . . . Production Speeds for PCBs up to 20 Inches Per Minute


PATERSON, N.J.--Jan. 15, 2004--Manufacturers of printed circuit boards use Glenro conveyor dip coaters with integrated infrared dryers to increase throughput of printed circuit board manufacturing operations. This Glenro dip coater and infrared dryer system, Model 4246, is designed to dip coat printed circuit boards in protective conformal coatings, and then dry the conformal coatings at rates between 2 inches and 20 inches per minute.

The conformal coating machine measures 86 inches wide by 100 inches high by 63 inches deep. A stainless steel dip tank includes a recirculation and filtration system to maintain the quality of the conformal coating. In addition, the system includes an optional controlling viscometer which automatically adds solvent to regulate the viscosity of the conformal coating, making for a more efficient line. To keep the conformal coating clean and retard evaporation a cover for the dip tank is provided for when the machine is not in use. A solvent fume exhaust system is included, as is a clean air input system. All these features make the conformal coating machine more efficient for the customer thereby reducing production costs.

The conformal coating dryer section consists of a bank of six Glenro Radplane(TM) Series 36 low-temperature electric infrared heaters, which are regulated in a single zone. Aluminum reflectors keep the heat in the processing zone for greater energy efficiency and personnel safety. The infrared heaters' total connected power is 18 kW. The controls for the conformal coating machine are housed in a NEMA 12 enclosure and include a SCR temperature controller with push-to-read set point and emergency stop functions. The control system also includes a purge timer for purging the conformal coating machine before startup. An optional fire protection system is available. Again, these features allow the customer to have a more efficient line.

As with all Glenro systems, the Model 4246 conveyor dip coating and infrared drying conformal coating machine is constructed of heavy-duty materials for long, reliable service life. Glenro conformal coating systems are shipped prewired reducing installation and line down time costs to customers.

Headquartered in Paterson, New Jersey, Glenro Inc. provides process heating engineering and equipment for a wide range of industries and applications. Glenro serves customers through a nationwide network of sales offices.

Contact:
Jim Alimena, Vice President Marketing
Glenro Inc.
jimva@glenro.com
http://www.glenro.com
1-888-GLENRO1 (1-888-453-6761)
39 McBride Ave.
Paterson, NJ 07501-1799

More from Materials