Conveyor Roller transfers packages in any direction.
Press Release Summary: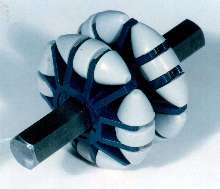 Multi-directional ERGO-ROLL is structured around 4 free-turning, football-shaped roller elements, positioned in 90° staggered pattern around perimeter of main wheel hub. Arrangement provides 9 individual rotating turning axles when paired in duplex-wheel configuration. Made of self-lubricating plastic composite, roller works in wet applications. ERGO-ROLL is 1.90 in. dia and comes in 7/16 in. hex, 1/2 in. round, 5/16 in. hex, and 5/16 in. round axle configurations.
---
Original Press Release:
Multi-Directional Conveyor Roller

EASILY INSTALLED IN ANY GRAVITY OR MOTOR DRIVEN APPLICATIONS WHERE MATERIAL OR PACKAGES NEEDS TO BE SMOOTHLY AND EASILY TRANSFERRED OR TURNED IN ANY DIRECTION.

The new patented multi-directional ERGO-ROLL conveyor roller is structured around four free turning football shaped roller elements positioned in a 90 degree staggered pattern around the perimeter of a main wheel hub. This arrangement provides a total of NINE individual rotating TURNING AXLES when paired in a
duplex wheel configuration.

The roller's open construction allows particles or dirt in the use application to gravitate through the roller structure, without causing binding or lock-up of the multi-directional roller function.

Since the roller is made out of a self-lubricating plastic composite, the roller works equally well in wet application and does not require maintenance or lubrication for long service life.

The roller's large load carrying surface is furthermore not likely to indent or scratch the material being transferred on it.

1.90 diameter ERGO-ROLL is designed and manufactured in the USA in standard 7/16" hex, 1/2" round, 5/16" hex and 5/16" round axle configurations for ease of installation in any new or existing conveyor application where multi-directional transfer is desired.

ErgotecH Inc. is an innovative company dedicated to creating quality products that optimize the interaction between people, work and the environment.
More from Agricultural & Farming Products