Conveyor Roller is driven by brushless motor.
Press Release Summary: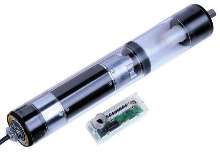 Interroll RollerDrive and DriveControl HPBL provides users with 24 Vdc-powered roller that operates at speeds to 394 fpm at weights of up to 110 lb. Motor-gearbox configuration produces noise levels under 60 dB, and 4-quadrant controller permits controlled accelerations and decelerations as well as constant conveyor speeds over entire weight range. Product is available in steel self-colored, zinc-plated or with stainless steel tubing with 1.97 in. dia.
---
Original Press Release:

Interroll Introduces High Performance Brushless Motor Conveyor Roller


Wilmington, N.C., January 10, 2005. Providing the material handling industry with an economical and safe alternative to chain and belt driven conveyors, Interroll announced its new high performance brushless roller, designated the Interroll RollerDrive and DriveControl HPBL.

The 24V DC-powered roller was designed to meet the market's demand for moving unit loads with improved control capabilities at higher speeds. The new RollerDrive HPBL provides optimal power, reliability and endurance.

"Interroll has pioneered RollerDrive technology, enabling a safer and more efficient alternative to standard chain, line-shaft and sprocket conveyor solutions," said Ken Bobick, Global Product Manager for Interroll RollerDrives. "This new generation of motorized rollers has been designed for a wide range of applications, including the pharmaceuticals industry, distribution centers and order picking systems. High speed and intelligent electronics, coupled with a long service life, make the Interroll RollerDrive HPBL the perfect solution for any high-performance system."

With conveyor speeds of up to 394 ft./min. (2.0 m/sec), the Interroll RollerDrive HPBL increases material flow rates considerably, at weights of up to 110 lbs. (50 kg). Due to the optimized motor-gearbox configuration, noise emission levels of less than 60 dB can be achieved. Boasting a service life of 20,000 hours, this state-of-the-art component is synonymous with reliability and streamlined operational costs. It is available in steel self-colored, zinc-plated or with stainless steel tubing with a diameter of 1.97 in. (50 mm).

The four-quadrant controller permits controlled accelerations and decelerations as well as constant conveyor speeds over the entire weight range. The integrated control system featuring intermittent locked-motor monitoring ensures a safe shutdown in the event of an overload and automatic restarting.

The Interroll RollerDrive HPBL offers an array of pioneering features. As a result of this state-of-the-art functionality, possible overloads of the electronic circuitry and mechanical systems are a thing of the past. The lower risk of outages translates into higher efficiency levels.

Portrait of Interroll
Interroll is one of the world's leading suppliers of components as well as subsystems and modules for unit load handling, conveyor technology, and automation. Three global business units manage the Group's international activities, based on an incisive strategy in terms of market and product positioning. Within the Components segment, Interroll Drives and Rollers focuses on assisting regional engineering companies and original equipment manufacturers. Interroll Dynamic Storage and Interroll Automation, which operate in the Subsystems segment, are responsible for multinational system integrators and corporations as well as end-users. Listed on Switzerland's SWX stock exchange, Interroll employs roughly 1100 people in 25 countries worldwide.

Interroll key markets
Interroll supplies the following key markets with premium products and services: food processing, airport technology, postal and parcel distribution, third-party logistics providers, automotive, and the pharmaceutical industry. Products include stainless steel/food-grade belt drives, DC roller drives and conveyor rollers; modules for dynamic pallet flow and carton flow storage; sorters, belt curves, spiral curves, belt conveyors, and roller conveyors.

More from Machinery & Machining Tools