Conveyor Oven tempers transmission components at 300°F.
Press Release Summary: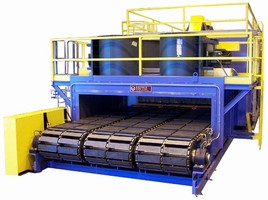 Electrically heated, 2-zone, top flow conveyor oven features 34 ft x 10 ft 4 in. x 2 ft chamber rated for 700°F max. Rated for 10,000 lb/hr, its slat type conveyor has 4 in. wide x ½ in. thick carbon steel slats and 9 strands of 6 in. pitch conveyor chain to carry load. In addition to integral conveyor monitoring system that promotes safe operation, oven comes equipped with strip chart recorder, push-pull style cool down system, and PLC with touch screen.
---
Original Press Release:

Conveyor Oven Tempers Transmission Components



Wisconsin Oven designed and manufactured an Electrically Heated Two Zone Top Flow Conveyor Oven with Cool Down to temper heavy equipment transmission components at 300º F. The oven has a 10'4" wide x 34'0" long x 2'0" high chamber rated for 700º F maximum.

The equipment features a slat type conveyor, rated for 10,000 pounds per hour, with 4" wide x ½" thick carbon steel slats and nine (9) strands of 6" pitch conveyor chain to carry the load. An Allen-Bradley Powerflex variable frequency drive provides conveyor speed adjustability from 0.1 to 0.4 FPM for the 3 HP motor. E-stop buttons are located at each end of the conveyor. The conveyor monitoring system includes proof-of-conveyor tail shaft rotation to sound an alarm in the event the conveyor belt does not move. Part sensors are mounted at the exit end to warn of parts approaching the end and to stop the conveyor in the event a part reaches the end.

This convection oven is constructed with our patented 6" thick, Expandable Surface® construction with 3/16" thick carbon steel plate exterior and 18 gauge aluminized steel interior. The oven has four (4) access doors with interlocks to shut off the conveyor. Handrails are provided around the roof perimeter with ladder access. Stainless steel lubrication lines are provided for manual lubrication with a grease gun.

The heating system features plug-mounted incoloy sheathed heating elements with zero-fired SCR power control. Zone 1 is rated at 336 KW and zone 2 is rated at 204 KW. The recirculation system delivers the heated air vertically down from ductwork located above the chamber. Each zone features two (2) 26,000 CFM @ 20 HP recirculation blowers, 52,000 CFM per zone, 104,000 CFM total. The unit achieved a temperature uniformity of ±10º F @ 300º F with exception to the first and last 42" of the heating chamber.

The system features a push-pull style cool down system. Two (2) 20,000 CFM @ 10 HP fans will blow ambient shop air onto the work and two (2) 21,000 CFM @ 10 HP fans will remove the heated air from the chamber. The cool down is fabricated of 3/16" plate exterior and has one (1) access door with a conveyor interlock.

The UL labeled and certified NEMA 12 control enclosure is mounted on the oven, and includes a main power disconnect switch. The controls feature an Allen-Bradley Micrologix 1500 PLC with a PanelView Plus 1000 touch screen (10.4") for operation of the equipment. The temperature of the oven is controlled through micro-processor based digital instruments from Eurotherm. Over-temperature protection also is provided through instruments from Eurotherm. The temperature of each zone is recorded through a Eurotherm 4102C strip chart recorder. Power factor correction capacitors are provided for the recirculation and cool down blowers. The enclosure has an air conditioner for maintaining a cool environment for the control components.

For additional information please contact Gary Hanson, Senior Application Engineer at 262-642-6006 or ghanson@wisoven.com.

More from Software