Conveyor Oven cures epoxy in automotive transmission parts.
Press Release Summary: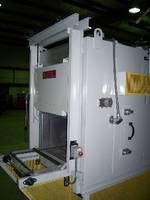 Offering 2 zones of control, electrically heated Horizontal Conveyor Oven features 2 ft 3 in. x 5 ft 10 in. x 1 ft 8 in. chamber with max temperature rating of 350°F and normal operating temperatures of 176°F in zone 1 and 302°F in zone 2. Oven uses indexing parallel chain style conveyor system with cleat attachments for accurate rack positioning. Additional features include emergency stop button and photo eye at exit end to prevent indexing with load present in unload position.
---
Original Press Release:

Horizontal Conveyor Oven Cures Epoxy in Automotive Transmission Parts



Wisconsin Oven designed and manufactured an electrically heated horizontal conveyor oven with two (2) zones of control for curing epoxy on automotive transmission parts. The oven chamber is 2'3" wide x 5'10" long x 1'8". The maximum temperature rating is 177°C (350° F) with a normal operating temperature of 80° C (176° F) in zone 1 and 150° C (302° F) in zone 2. Parts racks are double stacked with 60 parts each to achieve a production rate of 2.4 racks (144 parts) per hour. The parts are indexed through the oven for a total heating time of 150 minutes.

This horizontal conveyor oven uses an indexing parallel chain style conveyor system with cleat attachments for accurate rack positioning. Insulated, pneumatically operated vertical lift doors are located at both ends of the oven along with one non-insulated vertical lift door located within the oven between zones for tight temperature uniformity. Other features included on the system are guarding around the conveyor, an emergency stop button where the equipment is manually loaded and unloaded, and a photo eye at the exit end of the conveyor to prevent indexing with a load present in the unload position.

The UL labeled and certified NEMA 12 control enclosure includes IEC style motor starters, push buttons, pilot lights and a Siemens PLC with an index timer and alarm. The temperature is controlled by a Eurotherm 3216 temperature controller. The recirculation system utilizes direct drive blowers to optimize efficiency.

The customer required temperature uniformity of +/-5° C at 80° C in zone 1 for a period of 90 minutes and +/- 5° C at 150° C in zone 2 for a period of 30 minutes. Actual temperature uniformity results exceeded this requirement with +/- 5° C at 80° C in zone 1 for 99 minutes and +/- 5° C at 150° C in zone 2 for 44 minutes.

For further details on this equipment, or if you would like to work with us on another application, contact our sales office at (262) 642-3938, or by email at sales@wisoven.com. For additional information on our Horizontal Chain Conveyor Ovens or to request a quote, visit our website at http://www.wisoven.com/Conveyorovens.htm.

Company Information

Wisconsin Oven Corporation

2675 Main Street

East Troy, WI 53120 USA

(262)642-3938 phone

(262)363-4018 fax

sales@wisoven.com

http://www.wisoven.com/

Contact Information for Product

Tom Trueman

Wisconsin Oven Corporation

Application Engineer

(262)642-6024 direct phone

ttrueman@wisoven.com

More from Software