Conveyor moves fragile products with sliding motion.
Press Release Summary: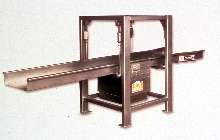 Variable speed, E-Z Slide HMC-18 uses counter rotating weight drive system so product remains stationary as it is carried forward, then instantly slides along tray surface as drive quickly reverses action. One horsepower drive is mounted below center of tray, eliminating infeed and discharge obstruction with up to 48 in. of clear overhang. Conveyor moves product 40 fpm, and comes with sanitary stainless steel tray ranging up to 24 in. wide and 10 ft long.
---
Original Press Release:

Conveyor Ideal for Fragile Product


ERIE, PA - May 2003 - Eriez' variable speed E-Z Slide Conveyor moves fragile products with a gentle sliding motion. The new HMC-18 model uses a counter rotating weight drive system so the product remains stationary as it is carried forward, then instantly slides along the tray surface as the drive quickly reverses its action. This mid-drive conveyor has its quiet 1 HP drive mounted below the center of the tray eliminating infeed and discharge obstruction with up to 48 inches of clear overhang.

The conveyor's sliding motion reduces product damage and oily particle build up from coatings being shaken off, providing wide application in the food processing industry. The E-Z Slide is capable of moving product 40 feet per minute, comes standard with a sanitary stainless steel tray ranging up to 24 inches wide and 10 feet long and can be suspended overhead.

The quiet, non-vibratory operation of the E-Z Slide also improves handling of small castings and powdered metal parts in foundry and metalworking environments.

To receive Eriez' brochure VB-3676, call toll-free in the U.S. and Canada at (888) 300-(ERIEZ) 3743, go online at www.eriez.com or email to eriez@eriez.com.

Eriez, recognized as "world authority in advanced technology for magnetic, vibratory and metal detection applications," designs, develops, manufactures and markets advanced technology equipment for magnetic separation, metal detection and materials feeding, screening, conveying and controlling applications. Eriez manufactures and markets these products through ten international facilities located on five continents.

Matt Glass - Altman-Hall Associates - Ph: 814-454-0158, Fax: 814-454-3266 or matt@altman-hall.com

Sales Leads: Keith Jones - Eriez Magnetics - 814-835-6000 or kjones@eriez.com

More from Fluid & Gas Flow Equipment