Conveyor End Synchronizers produce one lane of product flow.
Press Release Summary: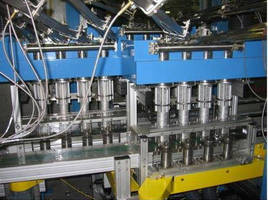 Fleetwood End Synchronizers combine multiple lanes of aluminum or steel ends or nested plastic containers into single lane, eliminating jams. Ends are received by units at high speeds from multiple curler discharges by way of curler discharge chutes. Systems consist of 3 or 4 vacuum hoppers, which stack ends for delivery into feed screws. Since ends are not overlapped on conveyor belt once in single lane, video inspection can take place for quality control of process.
---
Original Press Release:

Fleetwood Synchronizers Simplify Conveying



ROMEOVILLE, Ill. - FleetwoodGoldcoWyard, a leading producer and supplier of advanced conveyance technology and product handling equipment, presents its Fleetwood End Synchronizers. The principle behind the Fleetwood Synchronizer is to provide a way to efficiently combine multiple lanes of ends (aluminum or steel) or nested plastic containers into one single lane, eliminating jams and reducing conveying.

The timing of can ends discharging from curlers can sometimes be sporadic. The ends are received by the Synchronizers at high speeds from multiple curler discharges by way of curler discharge chutes. Each Synchronizer consists of three or four vacuum hoppers, which stack the ends for delivery into the Synchronizer feed screws.

The ends are stacked and the stack height is controlled by an analog sensor in the hopper that controls the drive motor of the feed screws. Each revolution of the feed screws delivers the ends onto a vacuum belt running underneath the Synchronizers. As one set travels past the last pair of feed screws, the next set is delivered, generating a continuous stream of ends to the high-speed stacking hopper at the end of the vacuum conveyor where they are stacked and conveyed to the next operation in the line. The Fleetwood Synchronizers neatly line up the ends in single file. Since the ends are not overlapped on the conveyor belt, video inspection of the ends can take place for quality control of the process.

Synchronizers can be utilized in any application requiring the combination of two or more lanes into a single lane. The application portrayed in the aforementioned narrative is a popular function of the Fleetwood Synchronizer, but the Synchronizer is not limited only to this operation. As an example, magnetic wheels can be used in lieu of hoppers and the Synchronizers can be used after driers or liners. Contact FleetwoodGoldcoWyard's experienced sales team to discuss your specific application.

ABOUT BARRY-WEHMILLER Barry-Wehmiller Companies, Inc. is a diversified global supplier of engineering consulting and manufacturing technology solutions in packaging, corrugating, and paper converting across a broad spectrum of industries. Barry-Wehmiller's balanced approach to the market is made possible through nine interactive divisions: Accraply, Inc., a leading manufacturer of automatic labeling and label converting and finishing systems; Barry-Wehmiller Design Group, Inc., a premier supplier of manufacturing automation, facility design, and other engineering consulting services; Barry-Wehmiller International Resources (BWIR), a global provider of business and technology solutions to the mid-market manufacturing domain; FleetwoodGoldcoWyard, Inc., a leading producer and supplier of automated can end and product handling equipment, advanced conveyance technology, robotic technology, palletizers, depalletizers, and process equipment; HayssenSandiacre, a form/fill/seal technologies and services leader for more than 100 years; MarquipWardUnited, Inc., a leading manufacturer of equipment for the corrugated and folded carton industries; Paper Converting Machine Company (PCMC), providing high-performance converting machinery for the global tissue, nonwovens, package printing, and envelope manufacturing industries; PneumaticScaleAngelus, a global provider for filling, capping, can seaming, labeling, and centrifugation; and Thiele Technologies, Inc., a leading producer of placing, feeding, bagging, cartoning, case packing, and palletizing equipment.

In fiscal year 2009, Barry-Wehmiller leveraged a strategic combination of organic and acquisition growth to achieve revenues of nearly $1 billion. Barry-Wehmiller now employs more than 5,400 team members in over 65 locations worldwide.

For additional information, please contact:

Greg Myers

Technical Materials and Marketing Leader

+1 (970) 663-4770

1305 Lakeview Drive

Romeoville, IL 60446 USA

Tel: +1 (630) 759-6800

Fax: +1 (630) 759-2299

sales@fgwa.com

www.fgwa.com