Conveyor Chain suits dry running applications.
Press Release Summary: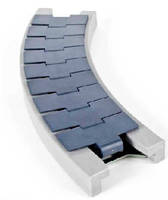 Made of FDA-approved thermoplastic resin, System Plast NG™ Evo Conveyor Chain is suited for dry conveying in food packaging applications. Low-friction design minimizes wasteful water-and-soap lubrication typically used on food and beverage conveyors. It also eliminates wear paste buildup, noise pulsation, and hygiene issues caused by mineral-oil-based dry lubricants. Companion Nolu®-S wear strips and guides, made of unique resin with solid lubricant, reduce noise and chain pull/belt fatigue.
---
Original Press Release:

New System Plast NG Evo Introduces FDA-friendly Dry Conveying Option for Food Packaging



Lower-friction, tougher and more elastic than original NG chain, NG Evo introduces new dry conveying option for food processing



FLORENCE, Ky., – Emerson's Power Transmission Solutions business introduces its new System Plast NG™ Evo conveyor chain at Pack Expo, featuring a proprietary, low-friction FDA-approved material for dry conveying in food packaging applications. "NG Evo builds on the success of original NG chain, which is widely used for dry conveying in the bottling industry," said Jeff Himes, System Plast Senior Product Manager. "The new chain provides a higher breaking load, greater elasticity, lower coefficient of friction and much greater abrasion resistance than the original. NG Evo significantly expands options for dry conveying to meet sustainability and water conservation goals, which will grow in importance for food packaging as the U.S. already grapples with regional water shortages."



"NG Evo improves on a material that is a proven success in dry conveying beverage applications," added Himes. "All of the physical properties of the original NG chain have been enhanced to meet specific challenges in food processing applications. In addition, beverage handling conveyors are typically lubricated with soap and water that uses two to three times more water than goes into the finished product. There are obvious costs for this, but the hidden cost for wet conveyor is in the slip hazard, pumps, leaks and premature failure of bearings, sensors and other conveyor components."



System Plast NG Evo chain is an advanced, low-friction concept that can eliminate or greatly reduce wasteful water-and-soap lubrication typically used on food and beverage conveyors. It also reduces the costs and energy for water reclamation/treatment, and eliminates the wear paste buildup, noise pulsation and hygiene issues caused by mineral-oil-based dry lubricants.



NG Evo chain is made of a proprietary thermoplastic resin that is suitable for high-speed and dry-running applications, where it lowers power consumption and noise, and increases the belt's wear life. The companion Nolu®-S wear strips and guides enable reduced-lubrication or lubrication-free, high-speed conveyor operation. They are made of a unique resin with a solid lubricant that dramatically reduces the coefficient of friction. Nolu-S helps reduce noise, energy consumption, squeaking, and chain pull/belt fatigue. The combination of NG Evo chain and Nolu-S wear strips can reduce a conveyor's energy requirements by up to 30 percent, with service life as much as five times greater.



Plant engineers can determine their own potential conveyor cost savings using a new mobile app that calculates cost reductions from various choices of motors, drives and flat-top conveyor chains, as well as quick changeover guide rails and elimination of water/soap lubrication. The FREE mobile app can be obtained from the mobile app page at www.emerson-ept.com.



Emerson produces System Plast conveying chain and a variety of other drive components that reduce maintenance and water consumption in the food and beverage industry. These include products from SealMaster, Browning, Morse and McGill. To learn more, visit www.emerson-ept.com or contact an Emerson application engineer. A free mobile app available at the iTunes store, entitled "Power Transmission Solutions Product Library," allows searches across multiple product lines and placing information on a personal bookshelf. Interactive page-flip versions of the catalogs can also be accessed at www.emersononlinecatalog.com.



About Emerson

Emerson (NYSE: EMR), based in St. Louis, Missouri (USA), is a global leader in bringing technology and engineering together to provide innovative solutions for customers in industrial, commercial, and consumer markets around the world.  The company is comprised of five business segments: Process Management, Industrial Automation, Network Power, Climate Technologies, and Commercial & Residential Solutions.  Sales in fiscal 2013 were $24.7 billion.  For more information, visit www.Emerson.com



About Emerson Industrial AutomationTM

Emerson Industrial Automation (www.EmersonIndustrial.com), a business of Emerson, provides automation and power generation technologies and services to a wide range of industries. With its global capabilities and deep industry expertise, Emerson Industrial Automation is a trusted partner for products and solutions that increase machine performance, efficiency, reliability, and availability. Its industry-leading brands include Appleton®, ASCO®, Branson®, Browning®, Control Techniques, Jaure®, Kop-Flex®, Leroy-Somer®, McGill®, Morse®, Numatics®, O-Z/Gedney, Rollway®, SealMaster®, and System Plast™.  For more information, visit powertransmissionsolutions.com  



Contact

Jeff Himes

Emerson Industrial Automation

Power Transmission Solutions

jeff.himes@emerson.com

Tel:  859.727.5263

More from Packaging Products & Equipment