Conveyor carries loads up to 120 lb.
Press Release Summary: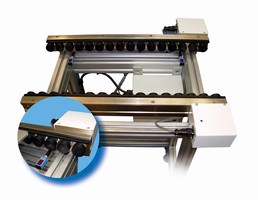 Suited for mid-range conveyed material applications, Quickdraw® XR Series is modular and sectional with lengths available in 1.5 in. increments, up to 120 in. Unit features bi-directional, ESD-safe operation with open center, slip-roller design for accumulation and precise product movement. Offering speeds of 0-60 fpm, conveyor can stand alone or connect to auxiliary devices such as lift and locate docks, rotators, loaders/unloaders, stackers, and diverters.
---
Original Press Release:

Magstar(TM) Quickdraw® Conveyor Systems Now Offer Expanded Flexibility for Mid-Range Applications with the New XR Series Conveyor



HOPKINS, MN-September 25, 2007-MagStar(TM) Technologies, Inc. announces the new XR Series Conveyor, the latest addition to MagStar's wide selection of state-of-the-art Quickdraw® Conveyor Systems. The XR offers the same robust, reliable operation of MagStar's popular MR and HD (Heavy Duty) Series conveyor systems and features a unique load-carrying ability of up to 120 lbs., delivering a cost-effective assembly line solution for mid-range conveyed material applications.

The XR Series bridges the capacity gap between the Quickdraw MR Series (capable of conveying up to 20 lbs. of product) and the HD Series (capable of conveying loads of up to 200 lbs.), and it is easily configured and integrated into existing production lines. Like all Quickdraw conveyors, the XR is modular and sectional, with clean, quiet, and ESD safe operation. In addition, the XR features bidirectional operation with an open center, slip-roller design for accumulation and precise product movement. The XR also offers a low profile design and connects to auxiliary devices such as Lift & Locate Docks, Rotators, Loaders/Unloaders, Stackers, and Diverters.

"The XR Series solves a common assembly line dilemma by offering an efficient, convenient conveyor solution for manufacturers of products too heavy for our MR Series yet not quite requiring our robust HD Series conveyor," said Dave Helgerson, Chief Technology Officer for MagStar. "The XR is available in lengths of up to 120", and users can select their conveyor lengths in increments of 1.5", making the XR Series the most flexible Quickdraw solution to date." Helgerson adds, "It also features the same cleanroom-appropriate operation, proprietary design, and simple installation as all our cutting-edge Quickdraw products."

Applications. The XR Series increases production efficiency and maximizes output in factory automation, and it is easily integrated with dispensing, inspection, analyzing, labeling, and shaker applications. With its 120 lbs. capacity, the XR is well suited for a broad variety of mid-range conveyor applications, including the following:
Medical device and instrument assembly
Micro-electrics production
Semiconductor applications
Cleanroom environments
Automotive component assembly

In addition, several features of the XR Series Conveyor make it particularly easy to set up and use:
Capacity of up to 120 lbs.
Modular and sectional
Lengths available in 1.5" increments, up to 120"
Open center, slip roller design
Clean, quiet, ESD safe operation
Bidirectional conveyor
Speeds of 0-60 feet per minute
Low profile design
Capacity to accumulate pallets
Simple to assemble, integrate and configure
Can be incorporated into any third-party process station or stand alone to connect workstations and cells
Accessories include sensors, metering stops, pallet locate devices, etc.
Easily connections to auxiliary devices such as Rotators, Stackers, and Diverters
24 VDC or 110 plug and play operation available

MagStar Technologies, Inc. is a leading supplier of advanced conveyor solutions and custom servo motor assemblies. MagStar's proprietary Quickdraw Conveyors are automated systems for material handling in any application, especially cleanroom and assembly applications in factory and laboratory environments. Quickdraw provides ESD protection and low power consumption. Additional company and product information can be found at www.magstar.com or by calling 1-800-473-8837. Send questions and comments to info@magstar.com.

More from Mechanical Power Transmission