Conveyor Belting has adjustable inside turn radius.
Press Release Summary: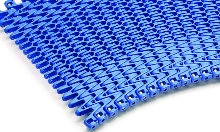 Suited for new or existing spiral freezing or cooling systems, Spiral Pro® belt model PR61200 has 1.22 pitch smooth mesh surface that offers small product support and close transfer capabilities. Belt also exhibits tight inside turn radius: 1.3x to 12 in. wide; 1.4x to 20 in. wide, and 1.6x above 20 in. wide. Features include 0.5 in. belt profile, 50% open area, 1 and 2 in. tall snap-in side-plates, and hold-down tab option.
---
Original Press Release:
New PR61200 Completes KVP1S Spiral Pro® Belt Line

Reading, PA - KVP's new 1.2" pitch Spiral Pro® belt (PR61200) teams with their previously introduced 2" pitch Spiral Pro® belt (PR62000) to complete the most advanced modular plastic spiral belt line available anywhere. The new PR61200 belt shares all of the revolutionary new features of its 2" pitch sister belt, while adding excellent small product support and close transfer capabilities. KVP now has specially-designed spiral belts for virtually any new or existing spiral freezing or cooling system.

The 1.2" pitch smooth mesh surface of the PR61200 offers excellent support for small products and enables extremely close product transfers. The belt also has the tightest inside turn radius available in a spiral plastic belt - 1.3x to 12" wide; 1.4x to 20" wide and 1.6x above 20" wide. The inside turn radius is also adjustable with patented KVP "radius expansion plugs" to eliminate chattering and sloppy belt performance. A low 0.5" belt profile insures plenty of vertical product space between spiral tiers and simplifies metal belting retrofits. Unequaled plastic spiral belt pull strength allows increased product loads, improved throughput and unrivaled durability. The PR61200's 50% open area allows maximum airflow for quick freezing and cooling; while its 1" and 2" tall snap-in side-plates allow complete outside or inside edge product containment. In addition, KVP's versatile belt design, which includes a hold-down tab option, enables outstanding performance in other non-spiral straight-running and radius belt applications.

KVP's new Spiral Pro® PR61200 also provides users with the best spiral belt performance guarantee in the industry. In addition to having a SNAP Team Member on site to oversee new spiral installations or retrofits, KVP guarantees in writing the proper operation of its belting on both new and retrofitted spiral systems. If a spiral does not operate to agreed-upon specifications due to a KVP plastic spiral belt, the purchaser will receive full belt and installation credit and KVP will reconfigure their system to accept a belt of the client's choosing.

For further information, or to receive a free KVP spiral belting brochure or product catalog, call (800) 445-7898 or visit the Company's web site at www.kvpfalcon.com.

KVP was established in 1972 and is a wholly owned subsidiary of Summa Industries - a publicly held company whose shares are traded on the NASDAQ national market under the symbol of SUMX. Summa Industries (www.summaindustries.com) manufactures proprietary engineered plastic products for a broad spectrum of industrial and commercial markets. The Company has over 900 employees at twelve manufacturing facilities located throughout the United States.
More from Fluid & Gas Flow Equipment