Conveyor Belt Tracker incorporates pivot and tilt technology.
Press Release Summary: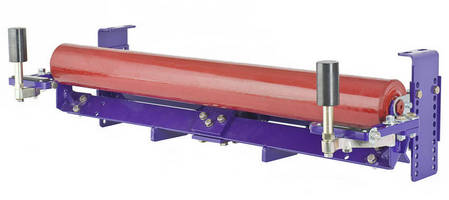 Offered in standard and underground versions, PT Smart(TM) Belt Trainer works with up to 1 in. thick, medium-duty, mechanical/vulcanized belts rated for 1,600 PIW max tension. Flexco pivot and tilt design features fully enclosed with stainless steel pivot bearing downstream from roller that creates immediate tracking result. Pivot and tilt action is initiated by 2 sensor rollers, and length of sensor arms avoids potential belt binding/pinching while promoting drift sensitivity.
---
Original Press Release:
PT Smart(TM) from Flexco Is an Economical, Efficient Belt Training Solution
DOWNERS GROVE, Ill. - Flexco introduces the PT Smart(TM) Belt Trainer, developed to further enhance its line of belt tracking products. The PT Smart will join the Belt Positioner(TM) and the innovative heavy-duty PT Max(TM) Belt Trainer as an option for "medium-duty" tensioned belts. The economical and versatile PT Smart works with both mechanical and vulcanized belts, is made of durable materials, and is easy-to-install. Features Flexco pivot and tilt technology The PT Smart Belt Trainer adopts the same characteristics of the PT Max, including the patented Flexco "pivot and tilt" design. With pivot and tilt technology, the PT Smart applies greater belt tracking discipline than conventional pivot-only belt-steering devices, correcting even the most stubborn tracking problems on medium-tension belts. A fully-enclosed, stainless steel pivot bearing is found downstream from the roller, creating an almost immediate tracking result. The bearing requires no lubrication and is guaranteed not to seize. When responding to belt mistracking, the PT Smart turns its idler training carriage away from the direction of drift, simultaneously lowering the end of the carriage opposite the drift while raising the end facing the drift. The resulting tilt increases belt tension along the drift-out side, causing the belt to center itself naturally, while keeping the load distributed across the training carriage and avoiding the need for concentrated steering forces along the belt edge. The pivot and tilt action is initiated by two sensor rollers installed alongside both belt edges. Extra-long sensor arms avoid any potential for belt binding or pinching as corrective training takes place and allow greater sensitivity to minor amounts of belt drift. The degree of drift sensitivity is user-adjustable from beside the conveyor, using the PTS Sensor Adjustment Arm. The PT Smart is easy-to-order and easy-to-install. Designed to meet instant demands for training solutions, the PT Smart is available on a one-working-day lead time. Durable and strong, the PT Smart also comes with a 2-Year "No Risk" Performance Guarantee. Plus, the simple brackets and component construction offer quick and easy installation. The PT Smart is designed for use with medium-duty belts up to 1600 PIW maximum tension and thickness of 1" (25 mm). Models are available for return-side installation for belt widths from 18" to 72" (450 mm to 1800 mm). Both standard and underground versions are available for a variety of different applications. For more information on the PT Smart, PT Max, or Belt Positioner, log on to www.flexco.com or call Flexco customer service at 1-800-541-8028. Flexco provides the world's belt conveyors with efficient, safe products, services, and solutions for splicing, belt cleaning, belt tracking, spillage, and slippage. The company is based in Downers Grove, Illinois and operates subsidiaries in Australia, China, England, Germany, India, Mexico, Singapore, and South Africa. Flexco markets its broad line of products through a worldwide network of distributors, under the Flexco®, Alligator®, Clipper®, Mineline®, Rockline®, and Eliminator® brand names.
More from Communication Systems & Equipment