Conveyor, Accumulation Table facilitate tablet/capsule inspection.
Press Release Summary: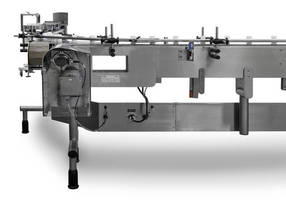 Handling round, square, and rectangular bottles (plastic or glass) up to 2500 cc, Tablet Entrapment Free (TEF) Conveyor and TEF Accumulation Table facilitate inspection for trapped product. Functionality accelerates thorough line clearance during product changeovers and shift changes while also helping eliminate foreign product cross-contamination. Conveyor operates up to 100 fpm, and roller-dropping handles let one person drop chain and clear line in <10 min without any tools.
---
Original Press Release:

NJM Packaging Introduces TEF Conveyor and TEF Accumulation Table



NJM Packaging introduces its new Tablet Entrapment Free (TEF) equipment for pharmaceutical and nutraceutical manufacturers and contract packers handling tablets, softgels and capsules. The TEF Conveyor and TEF Accumulation Table ease inspection for trapped product, making line clearance during product changeovers and shift changes quick and thorough. The TEF Conveyor and TEF Accumulation Table increase uptime and help eliminate foreign product cross-contamination to reduce the risk of product recalls, litigation and settlements.



"Our TEF equipment reflects an important new design philosophy that's focused on protecting a brand's integrity by eliminating cross-contamination. During development, we worked closely with our customers to incorporate all the features they wanted, and then we took it to the next level," said Dan Lapierre, Vice President of NJM Packaging. "Unlike raised bed conveyors that feature shelves that can trap product and are difficult to clear, our TEF equipment reduces traps and improves inspection."



The TEF Conveyor and TEF Accumulation Table handle round, square and rectangular bottles made of plastic or glass that are up to 2500 cc in size. With a top speed of 100 feet (30 meters) per minute, the TEF Conveyor can be used to transport bottles through unscramblers, desiccant inserters, roll-up counters, cottoners, induction sealers, cappers, retorquers and other machines to increase productivity and help maintain final product quality.



The TEF equipment features a tabletop chain that can be lifted from the top without releasing tension on the belt to inspect inside the conveyor body. With no internal shelf, the TEF Conveyor and TEF Accumulation Table enable viewing from the top to the bottom chain with no hidden areas. The internal structure includes only sloped and rounded surfaces – no flat bars – so rogue tablets fall on the bottom chain to be easily found during line clearance.



The bottom tabletop chain is easily lowered via chain release handles to expose the complete length of the chain from idler to discharge to help find and remove trapped product. An electrical safety interlock prevents operation when the chain is lowered. With each handle releasing five or six rollers at a time, one person can drop the chain and clear the line in less than 10 minutes with no tools required. Compared to traditional conveyors that require tools to hammer out a pin to expose a section of the chain for inspection purposes, the TEF equipment reduces clearance time by up to 75 percent.



Lexan windows, which are positioned to complement the machine being installed over the conveyor, enable operators to see inside the equipment and can be combined with optional LED interior lights. The leg brackets are lower than usual for added visibility beneath the conveyor body. To eliminate traps, the brackets and legs are rounded. To maximize sanitation, the threads on the leveling feet are covered and the covers can be lifted by hand to clean and inspect. All metal is 304 stainless steel.



A direct-mount AC drive features a motorized pulley that eliminates shaft-mounted motors, gearboxes and drive chains that can trap product. The lockable electrical disconnect on the AC drive enables 'tag out.' The motor guard is clear Lexan to ease visual inspection. For new production lines, NJM can equip the TEF machines with optional three-tier wireways made of 304 stainless steel.



On top of the things that both TEF systems share – the absence of internal shelves, the tabletop chain that can be lifted and lowered, the windows into the conveyor body, rounded and sloped surfaces, the direct-mount motor and more – the TEF Accumulation Table offers additional features.



The TEF Accumulation Table incorporates two side buffer tables that are mounted to a central TEF Conveyor. Castor wheels on the buffer tables and docking stations, which easily establish mechanical and electrical connections between the side buffer tables and the host TEF Conveyor, enable the buffer tables to be unlocked from the conveyor and wheeled away for full exposure to ease inspection and line clearance.



About NJM Packaging, "Powered by Pro Mach"

For 100 years, NJM Packaging has been the proven packaging systems resource, unmatched for the innovation and quality of our equipment manufacturing, solid dose solutions, expertise in labeling, complete line integration, and truly exceptional support.  A one-stop source, NJM Packaging offers expert knowledge and experience from the earliest stages of planning through implementation and production, delivering competitive advantage and greater end-product value to our clients.  Our customers include: pharmaceutical, nutraceutical, food, beverage, chemicals, cosmetic and personal care product manufacturers; as well as contract manufacturers.



Reader Inquiries:

Marla Labreche-Stallmann

NJM Packaging

77 Bank Street

Lebanon, NH 03766  USA

Tel: 603 448 0300  

Fax: 603 448 4810

MarlaStallmann@njmpackaging.com

www.njmpackaging.com

Related