Converters provide digital control of analog servo systems.
Press Release Summary: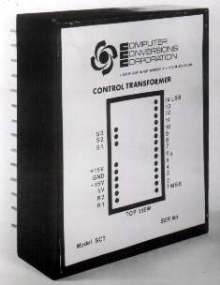 Solid State Synchro Control Transformers have standard accuracies of ±6, ±15 or ±30 minutes of arc. They simultaneously accept synchro or resolver inputs of 11.8 or 90 V, 400 Hz or 90 V, 60 Hz, and 14, 12, or 10 Bit binary digital data. Output voltage is sine of the difference between 2 input angles. Output angle range is ±7° or ±12.5°, and operating temperatures are 0-70°C or -55 to +85°C. Bi-directional input data is accepted and outputs are short-circuit protected.
---
Original Press Release:

Solid State Synchros Provide Digital Control of Existing Analog Servo Systems


A series of solid state synchro control transformer modules, which can directly replace conventional electro-mechanical control transformers and thus provide digital control to existing analog servo systems, have been introduced by
Computer Conversions Corporation.

The new modules are 2.6" x 3.1" x .82" and have standard accuracies of ±6, ±15 or ±30 minutes of arc. They simultaneously accept synchro or resolver inputs of 11.8v or 90v, 400Hz or 90v, 60Hz., and 14, 12, or 10 Bit binary digital data and provide an output voltage which is the sine of the difference between these two input angles. Gradients are .4V rms/°or 1V rms/°. Output angle range is ±7° or ±12.5°. This series of converters is insensitive to ±10% amplitude and frequency variations, ±5% power supply variations, and accuracy applies over the operating temperature range.

The converters have transformer isolated reference and synchro inputs, and no adjustments are required. Bi-directional input data is accepted and outputs are short circuit protected.

Part No. SCT 40 requires a 26V or 115V 400Hz AC reference input and +15V DC at 60ma, - 15V DC at 25ma, and +5V at 75ma. Operating temperature ranges are 0 to 70°C or -55°C to +85°C.

Prices in reasonable production quantities are less than $350.00 each. Delivery is 4 weeks after receipt of order.

Computer Conversions Corporation is located at:
6 Dunton Court
E. Northport, NY 11731
Phone: 631-261-3300 Fax: 631-261-3308
E-Mail: sales@computerconversions.com Web-Site:www.computerconversions.com


More from Packaging Products & Equipment