DC to DC Power Supplies (Converters)
Converters provide 95% efficiency.
Press Release Summary: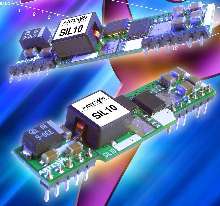 Non-isolated, point-of-load (POL), 10 A DC/DC Series SIL10, for use with 3.3 and 5.0 V on-board bus levels, employs synchronous-buck topology, using fixed-frequency switching and low on-resistance MOSFETs. Power density is 107 W/in
3
. Fixed-output converter provides 8 voltages from 0.8 to 3.3 V, and accommodates input voltage of 3.0 to 5.5 V. Wide-output trim model requires 4.5 to 5.5 V input. Output can be adjusted from 0.8 V to 3.6 V using single resistor.
---
Original Press Release:

Artesyn Launches First of Next-Generation, Ultra-Efficient Pol Converters


o specifically designed for use with standard 3.3V and 5.0V on-board bus levels
o unprecedented, industry-leading performance figures: 95% efficient and 107W/in3 power density

Artesyn Technologies has launched a new series of ultra-efficient 10A non-isolated point-of-load (POL) converters that includes models capable of providing an unprecedented 95% conversion efficiency. The new SIL10 series DC/DC converters are the first of a new generation of POL products that the company is developing for use in leading-edge designs in the telecommunications and data communications markets.

The converters are expressly designed for use with standard low voltage 3.3V and 5.0V on-board bus levels, enabling the power stage to operate with optimised duty cycles for maximum conversion efficiency; they employ synchronous buck topology, using fixed-frequency switching and ultra low on-resistance MOSFETs. The target application areas of the new SIL10 series are principally those that demand very small footprint, high reliability power sources capable of operating over a wide temperature range, such as optical network and wireless infrastructure components and systems.

At launch, the SIL10 series of POL converters comprises 8 fixed-output models and one wide output trim model. The fixed-output converters offer voltages of 0.8V, 1.0V, 1.2V, 1.5V, 1.8V, 2.0V, 2.5V or 3.3V, and accommodate any input voltage in the range 3.0V to 5.5V. The wide output trim model requires a 4.5V to 5.5V input, but its output can be adjusted from 0.8V to 3.6V using a single resistor; Artesyn has included this model so that electronics designers can begin to use this latest-generation POL conversion technology, even if the voltage requirements of some of the ICs in their designs are likely to change in the near future - thus providing maximum flexibility to electronics designers.

All SIL10 series POL converters employ an open-frame, single-board construction to minimise cost and weight and simplify thermal management. They are constructed entirely from surface-mount components, including the magnetic devices, and are designed for fully-automated assembly to help keep manufacturing costs as low as possible.All the converters in this series are designed for through-hole board mounting - they have industry-standard pin-outs - and are fully compatible with PIHR (pin-in-hole reflow) processes, making them ideal for manufacturers who are seeking to simplify production or move towards more environmentally-friendly processes by eliminating wave soldering.

SIL10 converters are available with a choice of vertical or horizontal package orientation to simplify design-in. The horizontal mounting version measures 2.0 x 0.5 inches (50.8 x 12.7mm), and has an above-board height of only 0.32 inches (8.1mm); the vertical mounting version features single-in-line connections and has a minimal footprint of just 2.0 x 0.31 inches (50.8 x 7.8mm), with an above-board height of 05 inches (12.7mm). The extremely low above-board height of both versions of converters makes them ideal for high-end telecoms applications, which tend to use tight inter-board rack spacing to minimise system size. Furthermore, their exceptional efficiency and ultra compact dimensions means that Artesyn's SIL10 series converters have the highest power density of any comparable POL product on the market, achieving an industry-leading figure of 107W/in³.

All SIL10 series POL converters accommodate a wide operational
temperature range of -40sC to +85sC ambient, and are expressly
designed as high reliability products, using very conservative
component de-rating criteria. The converters feature remote sense and remote on/off facilities, have no minimum load requirement, and are comprehensively protected against over-temperature, under-voltage and short-circuit conditions. They carry a full set of international safety approvals - including EN60950 (TÜV Product Service) and UL/cUL60950 - and meet the EN55022 level A standard for radiated emissions.

Pricing for 10,000-piece quantities is $11.90 US, and the standard lead time is stock to 6-8 weeks.

According to Mark O'Sullivan, Artesyn Technologies' Product Manager for Low Power DC/DC Converters, "We are now seeing an increasing use of on-board power conversion, driven mainly by designers' needs to accommodate the diverse voltage requirements of today's ICs, coupled with ever-decreasing voltage levels. In fact, many designers are now having to use a fairly sophisticated form of distributed power architecture, involving both isolated and non-isolated DC/DC converters, just to satisfy the power demands of individual boards.

The market for non-isolated POL converters is set to grow significantly, and we believe that by developing industry-leading products like the SIL10, we will be well-positioned to meet our customers requirements."

About Artesyn Technologies
Artesyn Technologies, Inc., headquartered in Boca Raton, Fla, is a leading provider of advanced power conversion equipment and real-time subsystems to the communications industry. With one of the broadest portfolios of power products available, Artesyn offers customers a wide range of high efficiency AC/DC power supplies, as well as advanced DC/DC and Point of Load converters for distributed power architectures. Artesyn's line of WAN interfaces, CPU boards, DSP solutions and protocol stacks are also at work in many of today's leading Teledatacom( networks. For more information about Artesyn Technologies and its products, please visit the company's web site at artesyn.com.

More from HVAC