Converters measure capacitance and impedance.
Press Release Summary: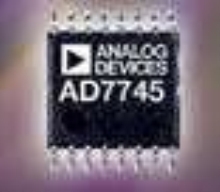 With 24-bit resolution and 1 mA max power, Model AD7745 is software configurable and integrates all stages of capacitance-to-digital conversion on one chip. Software programmable output data rate can be varied from 5-90 Hz. Impedance-to-digital converter, Model AD5933 combines direct digital synthesis, analog-to-digital conversion, and digital signal processing, allowing external complex impedance range from 100 ohms to 10 Mohms to be excited with frequency of 100 kHz.
---
Original Press Release:

Analog Devices Unveils Industry's First Single-Chip Solutions For Precise Capacitance And Impedance Measurements


-- ADI's new families of capacitance-to-digital converters (CDCs) and impedance-to-digital converters (IDCs) simplify instrumentation and sensor design in industrial, automotive, and medical applications.

NORWOOD, Mass.-- Analog Devices, Inc. (NYSE: ADI), the world leader in data conversion, today announced the world's first high-precision, fully integrated converters that address the complex and difficult signal processing challenges of direct capacitance-to-digital and impedance-to-digital conversion. Combining advanced signal processing techniques with high levels of integration, ADI's capacitance-to-digital converter (CDC) and impedance-to-digital converter (IDC) devices attain a level of precision previously only possible with conventional analog voltage-to-digital converters aided by a significant number of discrete components. ADI's devices provide designers significant advantages over existing discrete solutions for capacitance- and impedance-sensing applications that have historically lacked precision and proven difficult and expensive to design. The devices are ideal for a wide range of high-performance instrumentation and sensing applications, from blood pressure monitors and glucose analyzers to position sensors for automobiles and industrial corrosion analysis systems.

ADI's new converters are the world's first:
-- Single-chip, high precision capacitance-to-digital converter (CDC) - The AD7745 CDC integrates all stages of capacitance-to-digital conversion on one chip reducing costs associated with traditional multi-chip solutions by 65 percent. With 24-bit resolution, the AD7745 is the industry's highest-precision solution for interfacing with capacitive sensors. Ideal for industrial and medical instrumentation and automotive sensing applications.
-- Single-chip impedance-to-digital converter (IDC) - The AD5933 IDC combines direct digital synthesis (DDS), analog-to-digital conversion and digital signal processing techniques to provide a compact, integrated solution for precision impedance measurement. Ideal for consumer medical, biomedical, and industrial instrumentation applications.

"Designers of instrumentation equipment have long recognized the benefits of using capacitive and impedance techniques for applications requiring highly accurate measurements, but up until now they were constrained by complexities in implementation and by the significant design cost involved," said Mike Britchfield, product line director, Precision Converters, Analog Devices. "Our advanced CDC and IDC technologies solve these design challenges by delivering the optimal performance levels within an easy-to-use, fully-integrated one-chip solution significantly reducing time to market."

More about Analog Devices' CDC Products
Capacitive sensors, which are used to enable high-precision measurements in space-constrained and power-sensitive applications--such as pressure monitoring and position sensing--are extremely robust, accurate, and sensitive, but can be costly and difficult to implement. Traditional capacitance sensor signal processing solutions are either limited to lower accuracy applications or require an expensive, multi-chip capacitance-to-voltage front-end. ADI's CDCs eliminate these constraints by enabling higher accuracy (24-bit resolution) and delivering complete on-chip analog functionality, while reducing design effort and external component costs.

Because changes in the physical environment can change sensor parameters, the AD7745 is software configurable, eliminating the need for multiple customer product models and expensive hardware reconfiguration, and easing qualification and inventory management. The software programmable output data rate can be varied from 5 Hz to 90 Hz. At 16.6 Hz simultaneous rejection of 50 Hz and 60 Hz signals is achieved.

The first three devices in ADI's CDC family--the AD7745, AD7746 and AD7747--leverage ADI's expertise in high-precision sigma-delta technology and system integration by combining 24-bit resolution, low noise of 5 aF (10-18) per root hertz, and low power (1 mA max) with a complete range of on-chip analog functions. These functions include:
-- high-performance, 24-bit, sigma-delta analog-to-digital converter (ADC)
-- precision low-noise, low-drift voltage reference
-- temperature sensor
-- clock
-- multiplexer
-- calibration registers
-- 2-wire (I2C compatible) serial interface

This combination of features is well-suited to industrial process control, automotive electronics, and medical applications that demand high precision using the least amount of power and board space. For more information on Analog Devices CDC products, please visit: http://www.analog.com/CDC.

More about Analog Devices' IDC Products
Impedance measurement is a complex and difficult signal processing challenge, traditionally accomplished using discrete solutions. The AD5933 and AD5934 combine state-of-the-art digital and analog signal processing techniques to provide a compact integrated solution for impedance measurement. Using a direct digital synthesizer (DDS) to provide a fine-frequency sweep capability combined with an analog-to-digital converter and sophisticated digital signal processing these devices allow an external complex impedance (range 100 ohms to 10M ohms) to be excited with a known frequency of up to approximately 100 kHz. The response signal from the impedance is sampled by the on-board ADC and discrete Fourier transform (DFT) processed by an on-board DSP engine. The DFT algorithm returns a Real (R) and Imaginary (I) data word at each frequency point (in the case of a sweep) allowing impedance to be conveniently calculated based on an initial calibration. For more information on Analog Devices' IDC products, please visit http://www.analog.com/IDC.

Availability and Pricing
All devices are currently sampling with production quantities of the CDCs (AD7745 and AD7746) and the IDCs (AD5933: 12-bit, 1 MSPS; and

AD5934: 12-bit, 250 ksps) available in May 2005. The AD7747 CDC is currently sampling with production quantities available in August 2005. The devices are available in small 16-lead TSSOP (thin shrink small outline package) and 16-lead SSOP (shrink outline package) with prices ranging from $4.60 to $4.95 (CDC) and $4.35 to $6.65 (IDC) per unit in 1,000-piece quantities. Higher volume quotes are available on request.

About Analog Devices
Innovation, performance, and excellence are the cultural pillars on which Analog Devices has built one of the longest standing, highest growth companies within the technology sector. Acknowledged industry-wide as the world leader in data conversion and signal conditioning technology, Analog Devices serves over 60,000 customers, representing virtually all types of electronic equipment. Celebrating 40 years as a leading global manufacturer of high-performance integrated circuits used in analog and digital signal processing applications, Analog Devices is headquartered in Norwood, Massachusetts, with design and manufacturing facilities throughout the world. Analog Devices' common stock is listed on the New York Stock Exchange under the ticker "ADI" and is included in the S&P 500 Index.

More from Computer Hardware & Peripherals