Controller wirelessly networks equipment within minutes.
Press Release Summary: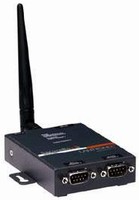 For companies that remotely manage and control appliances and machines over network or Internet, dual-port WiBox® wireless Device Server(TM) supports current 802.11 standards and offers wired Ethernet connectivity. It provides 802.11 b/g wireless capabilities as well as bridging capability for handling mixed (Ethernet or serial) device environments. RoHS-compliant product has embedded Web server that allows connected devices to be remotely monitored, managed, and controlled via Internet.
---
Original Press Release:

Lantronix WiBox Wirelessly Networks Existing Equipment In Minutes



Next Generation WiBox Delivers New Standards, Greater Flexibility and Ease of Deployment

IRVINE, Calif., Sept. 26, 2006 - Lantronix (Nasdaq: LTRX), today announced the newest version of its award-winning WiBox® wireless Device Server(TM) to serve the growing demand for WiFi technology that allows companies to remotely manage and control their appliances and machines over the network or the Internet. The new WiBox delivers support for the latest generation 802.11 standards and adds wired Ethernet connectivity for more complete configuration flexibility when in the field. Specialized features offer additional options and ease of configuration making serial or Ethernet device connectivity possible in just minutes, regardless of the application. WiBox provides an ideal solution for companies looking to network-enable a variety of machines and appliances ranging from plant equipment to corporate security systems by utilizing the most widely adopted wireless network standard, 802.11.

The new, enhanced dual-port WiBox now provides 802.11 b/g wireless capabilities for higher bandwidth and superior data throughput performance. The WiBox also provides a unique bridging capability which allows an Ethernet device to be connected to an 802.11 wireless network. This provides connectivity options for greater flexibility when dealing with a mixed (Ethernet or serial) device environment in a single solution. In addition, the new WiBox is industrial-grade (wide temperature range and ruggedized), making wireless communications possible in harsh outdoor or factory environments. It is also fully RoHS (Restriction on Hazardous Substances)-compliant and backwards compatible with the 802.11 b wireless standard. As with all of Lantronix device enablement products, the WiBox includes an embedded Web server that allows connected devices to be remotely monitored, managed and controlled via the Internet. This provides users with immediate device access from anywhere in the world, saving valuable time and money that would otherwise be lost managing the device locally.

"Our customers are intensely interested in 802.11 wireless connectivity and its potential to greatly enhance their operations and deliver value to their bottom line," said Marc Nussbaum, CEO of Lantronix. "We continue to see an increase in the adoption of wireless M2M device networking as cities deploy metropolitan WiFi networks, and as industrial and commercial venues become comfortable with recent technology advances to address security and ease of use concerns. In the case of 802.11 wireless device networks, customers want fully capable solutions that are ready to go. This is a new, potentially very large market that is just beginning to discover Lantronix technology."

Regardless of the market segment - medical/healthcare, industrial automation or security - 802.11 wireless networking has become the dominant solution for connecting a variety of devices, from forklifts operating in harsh environments to ventilators attached to hospital patients who are moving from room to room. In addition, wireless offers superior flexibility where running cable is either unfeasible or not cost-effective. This leads to faster and lower total cost of deployment and allows companies to effectively leverage existing assets in their environment that were previously unreachable.

To help companies realize the immense benefits WiFi Device Networking has to offer, Lantronix is sponsoring a monthly contest that invites end users to demonstrate how wireless connectivity, with the WiBox, adds significant value to their product or service. For more information on the WiBox, please visit: www.lantronix.com/info/wibox/

About Lantronix

Lantronix, Inc. (Nasdaq: LTRX) develops hardware and software solutions to help businesses and government agencies remotely access and manage network infrastructure equipment and rapidly network-enable their physical electronic devices. With nearly two decades of networking experience the company is a leader in secure, remote device and data center management. With a family of products ranging from embedded device servers, to external box device servers to data center management, Lantronix is a one-stop shop for technologists who design, manage and configure servers, electronic devices and network infrastructure equipment. The company's worldwide headquarters are located in Irvine, Calif. For more information, visit www.lantronix.com.

Lantronix and WiBox are registered trademarks, and Device Server is a trademark of Lantronix, Inc. All other trademarks are properties of their respective owners.

More from Materials