Controller replaces 2 or 3 standard timers with one unit.
Press Release Summary: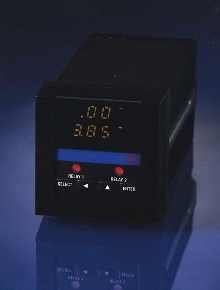 Model 385 Controller incorporates 3 easily set preset times or counts with built in totalizer that accumulates number of completed cycles. It has dual DPDT relays and EEPROM memory for applications where value must be retained during power failures or outages. Timing or counting display modes are selectable for time/count up or down from setpoint. Range is 0.01 sec to 999 hr. As counter, it works 1 to 9999 or 99990. Setup is done with 16 DIP switches.
---
Original Press Release:
Breakthrough In Timer & Counter Control Technology, the Model 385 Controller

LANCASTER, PA. Automatic Timing & Controls (ATC) is pleased to introduce a new product for the industrial controls market...the 385 Controller.

A totally new concept for OEM Machine Design Engineers, the 385 incorporates three easily set preset times or counts with a built in totalizer that accumulates the number of completed cycles. This design with its dual DPDT relays can replace two or three standard timers in one unit. An EEPROM memory is standard for applications where the time or count value must be retained during power failures or outages.

Timing or counting display modes are DIP switch selectable for time/count up or down from the setpoint. User selectable decimal point and timing ranges provide .01 Sec to 999 Hrs, or Hours:Minutes and Minutes:Seconds to 99:59. As a counter the 385 will accommodate counting from 1 to 9999 or 99990.

Setup of the 385 is easily done with 16 DIP switches with features that include momentary or sustained start, single or repeat cycles, and voltage or no voltage starting conditions. Operations are self-calibrating for 50 or 60 Hz usage, reducing inventory requirements.

This product is designed in a 72mm plug-in package for easy mounting. Heavy duty DPDT 7 amp dual output relays and contacts guarantee durability. Four easy-to-set snap action membrane switches accomplish digital setting accuracy of the presets. The switches can be adjusted during operation to lengthen, or shorten the cycle. A high visibility LED dual display is designed for viewing from long distances.

The 385 is built to ATC's stringent standards for noise immunity and ruggedness. UL and CSA approvals are pending.

For more information or literature, contact ATC at:

Automatic Timing & Controls
1827 Freedom Road, Lancaster, PA 17601
Tel: 1-800-441-8245, Fax: (717) 481-7257
Info@automatictiming.com / www.automatictiming.com

ATC
DIVERSIFIED ELECTRONICS
DigiTec
TENOR CONTROLS
WEST CON

1827 Freedoom Road Lancaster. PA 17601
Phone: (717) 295-8500 Fax: (717) 295-9536
E-mail: info@automatictiming.com Internet: www.automatictiming.com

More from Agricultural & Farming Products