Controller maintains proper pressure on stamping presses.
Press Release Summary: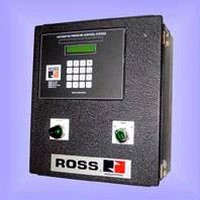 Counterbalance Pressure Controller automatically corrects over- and under-pressure conditions that occur during press operations. Pre-programmed, 2-channel unit allows for user-selectable mix and match functions such as inner and outer counterbalance, dual cushions, counterbalance and overload, or counterbalance and cushion. Operating on 120 or 240 V, 50/60 Hz or 24 Vdc power, controller features 2 layers of password protection and can store die information for up to 75 dies.
---
Original Press Release:

NEW Automatic Pressure Controller from Ross Controls



Counterbalance systems on stamping presses, when set to the proper pressure, can greatly extend the life of press components. Maintaining the proper pressure in manually set systems can prove to be laborious and time consuming. The new Automatic Counterbalance Pressure Controller from ROSS CONTROLS® is easy to install, secure, and automatically corrects over- and under-pressure conditions that occur with everyday press operations.

The Automatic Counterbalance Pressure Controller from ROSS CONTROLS® is a pre-programmed, 2-channel counterbalance pressure controller for stamping presses. Two channels (expandable to 4) allow for user selectable mix and match functions such as inner and outer counterbalance, dual cushions, counterbalance and overload, or counterbalance and cushion. The controller utilizes user definable settings with two layers of password protection and can store die information (pressure settings) for up to 75 dies. Mounted in a NEMA 12 enclosure (16" x 14" x 8" deep), the Automatic Pressure Controller's multi-language user interface includes a 2-line LCD display and dust resistant touch pad. The enclosure includes power switch with light, fault light, TDC (top dead center) input interface relay, and fused outputs. This new controller operates on 120 or 240 volt (50/60 Hz) or 24 volt d.c. power and includes an internal d.c. power supply for valve controls and pressure transducer.

The Automatic Pressure Controller integrates seamlessly with ROSS' counterbalance control valve packages, but works with other counterbalance systems as well.

For more information or a free brochure about the Automatic Counterbalance Pressure Controller, contact:

ROSS CONTROLS®
Customer Service
800-438-7677 (in the U.S.) or 706-356-3708 (outside the U.S.)
E-mail: custsvc@rosscontrols.com

More from Cleaning Products & Equipment